Going on a Cruise? Choose the Right Mobility Scooter for Your Cruise Vacation
Going on a Cruise? Choose the Right Mobility Scooter for Your Cruise Vacation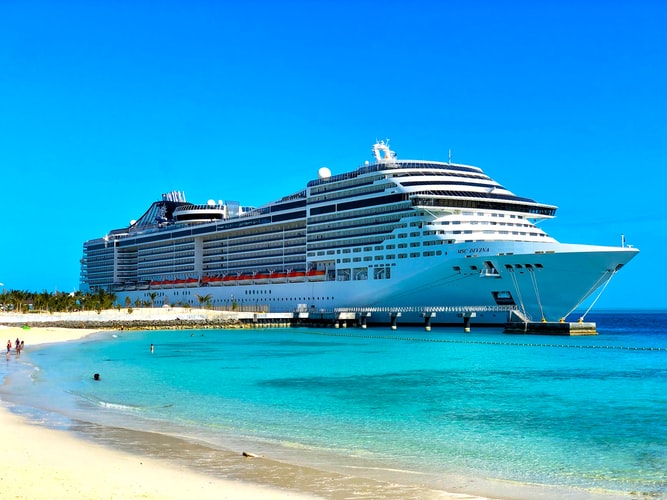 Covid-19 limited — or eliminated — many family vacations. Cruises were one industry negatively impacted by the global pandemic, with many families saying they wouldn't go on a cruise until a vaccine became available. Because of the discomfort of so many patrons, and because there was no safe way for cruise lines to operate while Covid-19 was at its height, many cruise lines shut down entirely. 
Luckily, the vaccine — at least for adults — is here. As a result, the cruising industry is in comeback mode, with most major cruise lines now open with a limited number of ships, and more cruises re-entering the vacation circuit every month. If you've been waiting for things to calm down with the pandemic, now's the perfect time to book your cruise. 
Having the right mobility scooter by your side can make your upcoming cruise vacation more fun and relaxing than any previous vacation. In this guide, we'll walk you through the most important considerations you need to make when booking your cruise and choosing the best travel scooter to cruise with you. 
Cruise Considerations for Senior Citizens
Before booking your cruise, there are a number of considerations you need to make for both your comfort and your safety. 
Although cruises are making their post-Covid comeback, not all cruise lines are open, and those that are may have limited ships or routes available. If you're interested in a specific cruise route, be sure to call cruise lines ahead of time to see when that route should be available and what you need to do to book your dream cruise ASAP. 
The CDC has also issued a warning that senior citizens who are not fully vaccinated should not yet travel on cruise ships. Traveling by ship necessitates sharing close quarters with other vacationers — often from multiple countries — which can increase the spread of Covid-19, especially among unvaccinated, at-risk individuals. 
Even if you're fully vaccinated, there are some travel considerations senior citizens need to consider. Remember that if you're traveling to a hot climate, it's especially important to take care of your body and stay safe. 
Benefits of Bringing a Mobility Scooter on Your Cruise
Bringing a mobility scooter with you on your cruise is one way to stay safe and comfortable during your vacation without cutting down on fun. There are a number of benefits to bringing your mobility scooter with you on your cruise.
For one thing, when you can move freely throughout the ship, you can enjoy your independence. On days you're not in port, you can choose which cruise events to attend and which ones to skip. You won't need your family members or friends to escort you to the food carving demonstration you want to see, and you won't have to rely on them to bring you back to your room if the dining room gets too loud in the evenings. Instead, you can make the best choices for yourself and truly enjoy every minute of your vacation. 
Bringing your mobility scooter on your cruise also means you won't get left behind when your family chooses to go on excursions. Suddenly, you'll be able to keep up during that walking tour in the Caribbean. You can enjoy that golf course in Edinburgh that you've had your eye on. When mobility stops being an issue, your options increase exponentially. You can make more memories and enjoy the fun and laughs everyone else in your family is enjoying. 
Choosing the Right Folding Mobility Scooter for Your Cruise
Not all mobility scooters are intended to be taken on a cruise ship. Some larger, heavy-duty scooters would be more of a hindrance than an asset when navigating the narrow corridors and tight corners of most cruise ships. Others have batteries that can't legally be brought on airplanes. Knowing what factors to consider can help you choose a mobility scooter that can comfortably — and legally — join you on your next cruise vacation. 
Travel Considerations
Unless you're planning to cruise directly out of your home state, the first factor you need to consider is whether the scooter you're looking at can be taken on an airplane. Due to size considerations, battery types, and other factors, some scooters are not approved for travel. 
If you're expecting to take your travel scooter on a plane, look for a scooter that is marked as being "FDA and TSA approved." Brands known for creating airline-friendly travel scooters include Whill, Atto, Luggie, and Relync. These brands specifically design their scooters for customers who travel often. As a result, their scooters aren't just approved for airline travel, but specifically designed to make traveling as easy as possible for the user. 
Durability
When you're traveling on a cruise ship, you may port in multiple different countries within the week. And if you don't make it back to your port by the time your ship is scheduled to leave, you're responsible for arranging your own transportation to the next port. 
The bottom line? You don't want to get stranded somewhere during your cruise. That's why it's important to look for a durable mobility scooter with a long battery life. High-quality scooters like the Freerider Luggie or the Moving Life Atto can give you peace-of-mind when you take them off the ship to explore your chosen destination. 
Navigability
Cruises are notorious for cramming a lot of people into a small space. As a result, the hallways — especially on the lowest levels where people sleep — can be narrow and difficult to navigate. 
A perfect travel scooter to take on a cruise can handle the challenges of maneuvering on a cruise ship. You need a travel scooter with a narrow frame, so other travelers can walk around you in the hall, as well as a tight turning radius so you can get through the hallways independently and comfortably. Products like the Luggie Super Scooter are designed for these challenges, and perfect for bringing on your next cruise. 
Convenience
The final major factor when choosing your mobility scooter is convenience. 
It's one thing to know your scooter can perform the way you need it to, and another thing entirely to get it to behave that way in the moment. A convenient mobility scooter is lightweight, so you can maneuver it yourself without needing your family members or friends to assist you. 
Folding scooters are ideal for this reason. When you need to put them on a plane or pack them into a cab to get to your cruise line, they stay small. You can also fold them up and tuck them into the closet in your cruise room cabin, maximizing your walking space when you're in your room. 
When choosing a scooter model, pay attention to the weight of the scooter and the weight of its parts. Ideally, you'd be able to lift your folded scooter by yourself so that you could tuck it away when you wanted to. 
The Best Mobility Scooter for Your Cruise Vacation
There's a lot to consider when booking your next vacation. Mobility issues can make planning a vacation even more difficult. Cruises often make for perfect vacations for those with mobility problems, because they offer plenty of opportunities to rest and relax. But to get the most out of your cruise, you need a mobility scooter that suits this unique vacation style. 
Ultimately, the best choice in mobility scooter for your cruise vacation will depend on a number of personal factors, including your mobility needs, your budget, and where you're traveling to. But regardless of these personal factors, you'll want to look for a high-quality, FDA and TSA approved scooter that navigates well in small spaces. Look into
folding mobility scooters
made by brands you trust, and be sure to always order from a trusted
A+ BBB certified company
like Go Mobility.