Folding Mobility Scooters: How These Versatile Scooters Can Change Your Life
Folding Mobility Scooters: How These Versatile Scooters Can Change Your Life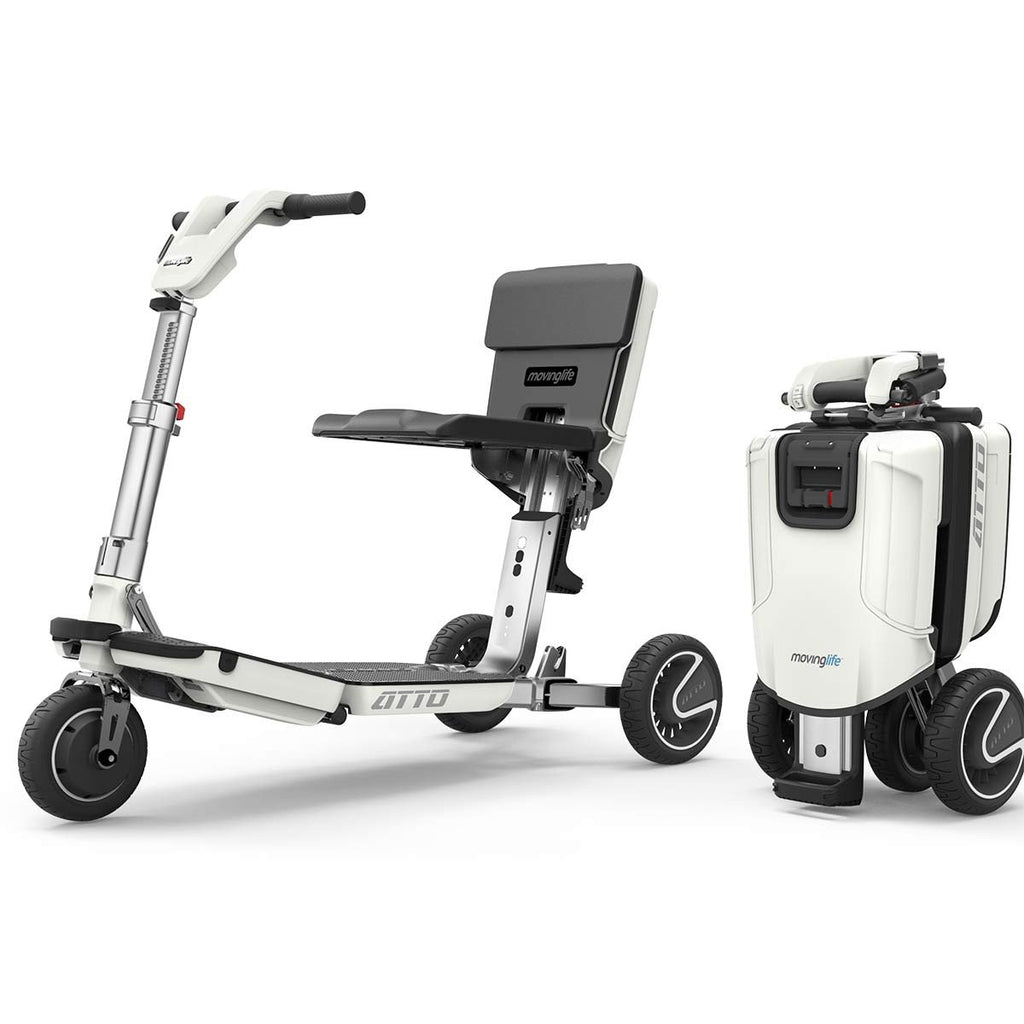 Mobility scooters are a great way to improve your independence as you age. They allow you to limit the amount of pain you're in while continuing to participate in the activities you enjoy most. As opposed to power wheelchairs, mobility scooters are especially recommended for people who want to increase their mobility outside their home. 
But while all mobility scooters are designed to be used outside the home, they're not all designed with ease of transportation in mind. Some heavy-duty mobility scooters are great for replacing your regular vehicle while you travel in a small town or assisted living community. But these same heavy-duty scooter models may not travel in a plane. You may even need to invest in a specialty disability-friendly vehicle if you want to take these mobility scooters to the mall or to your friend's house. 
If you need something that travels easier, then you need a special kind of mobility scooter. Folding mobility scooters, also known as fold-and-go mobility scooters or transformer scooters, are uniquely designed with transportation in mind. When you invest in folding scooters, you don't have to invest in specialty transportation vehicles. The one-time chair investment allows you to benefit from increased mobility regardless of where you're going or what you're planning to do once you get there. 
Folding Mobility Scooters to Promote Independence
Mobility scooters, in general, can help promote independence by allowing you to comfortably enjoy the daily activities that you've always enjoyed. For some people, that may mean taking a trip to the movie theater. For others, it could mean going on a cruise or enjoying your grandkids' first trip to Disney. 
One of the reasons folding mobility scooters are so beneficial is that they nurture this feeling of independence. When you no longer need a chair lift or ramp to transport your mobility scooter into a car, your options increase. With folding disabled mobility scooters, you can suddenly travel with friends whose cars aren't built to accommodate larger mobility scooters or power wheelchairs. 
Because folding mobility scooters are designed to be easy to fold up and transport in and out of cars, you may even be able to independently pack the scooter up or take it out. This is especially true if you invest in the Solax Transformer, which is by far the easiest travel scooter to fold while also affording solid stability. 
Portable Mobility Scooters for Everyday Life
Although some people choose to invest in both a heavy-duty mobility scooter and a fold and go mobility scooter, it's not necessary to do so. Folding disabled mobility scooters are more durable than ever before, and many are designed to both travel and function as everyday mobility scooters. 
Take the Elite Plus 4, for example. This folding mobility scooter was designed to be taken into locations other scooters would falter. Elite plus scooters are the only scooters on the market with suspension. Combined with larger-than-average tires and an amazing turning radius, this mobility scooter is designed to be stable even in uneven terrain. Whether you want to ride down a cobblestone road with your family, take a gravel path through the woods, or head out onto the golf course, this folding scooter will get you where you need to go. 
The Elite Plus 3 is similarly designed with omni shock suspension. However, this 3-wheel version is best for people who need to be able to navigate sharp corners. It comes with *Smart Turn Technology*. Easily navigate tight turns on cruise ships, then follow your family down a cobblestone path in Europe, all without having to switch mobility devices. 
Folding Mobility Scooters for Travel
When you're traveling, the last thing you want to worry about is whether you'll be comfortable when you arrive at your destination. Folding mobility scooters are designed to work in any location. All of the models we sell are TSA and FDA approved, so you can safely take them onto planes or cruise ships without worrying about getting through customs. They also come with universal charges, so you can feel confident that your new scooter will work all over the world. 
If you are looking for a scooter that does well with air travel, we recommend taking a look at the Luggie Standard or Luggie Elite. These are some of the easiest scooters to get in and out of cars. If you're looking for something you can use in the airport, pack conveniently onto the plane, and pack in a cab or other transportation vehicle once you arrive, these Luggies are the way to go. 
If, on the other hand, you don't need your mobility scooter to traverse the airport, but you want something that will store easily and can be used for long excursions during your travels, you might consider the Moving Life Atto Folding Scooter. This uniquely-designed travel scooter breaks into two pieces for easy portability and folds into its own storage case for safety when it's not in use. 
Transformer Scooters on a Budget
One of the reasons to choose transformer scooters over other mobility scooters is that transformer scooters can save you money in the long run. You don't have to invest in assistive devices like car ramps, chair lifts, or specialty vehicles to enjoy the convenience offered by these machines. 
Still, we know that budget is a major concern when it comes to buying travel scooters. While we offer a variety of payment options and financing plans, as well as a price match guarantee, we're also happy to direct you to the most budget-friendly options for your needs. When it comes to folding scooters, that's likely to be the EV Rider. It contains sealed lead batteries, making it airplane safe, and perfect for everyday mobility needs as well. 
Folding Mobility Scooters to Get You Where You Need to Go
Some people like to travel by cruise ship or plane. Others like to travel longer distances within their hometowns. Whether you want to be able to join your friends for their morning walk or want to be able to go longer distances walking a pet, having a folding scooter that can take you where you need to go is key. 
The Triaxe Sport Scooter has an amazing 35-mile range on a single charge. This scooter has a high weight capacity, making it bariatric-friendly, and can travel up to 12 mph. But despite being able to carry up to 350 pounds, this impressive scooter itself is only 44 pounds, making it convenient for driving to your favorite walking path and then taking your scooter for a ride. 
Another option for driving great distances is the Pride iRide Folding Scooter. This scooter has a lithium battery. While that does mean it's not as great for taking on planes as other models, lithium batteries charge faster and last longer than other batteries, so you can have this scooter ready to go in a flash. And at only $1,199, it's one of the most budget-friendly scooters you can purchase for long-distance travel in your home town. 
Finding the Best Folding Mobility Scooters for Sale
The best mobility scooter for you will depend on your unique needs. While we encourage you to look through all the Luggies we have to offer, as well as our other brands of folding scooters, we're also more than happy to talk to you about what you're looking for in a folding mobility scooter and which of our many scooters would best suit your needs. 
Our customer service representatives are ready to talk you through the differences between the Luggie Classic, the Luggie Super, and the Luggie Chair, for example, or help you choose the best bariatric folding scooter to take on a cruise. Contact our customer service team to help choose the best folding scooter for you or your loved one today.