Say Hello to My Little Friend: Everything You Need to Know About Tzora Scooters
Say Hello to My Little Friend: Everything You Need to Know About Tzora Scooters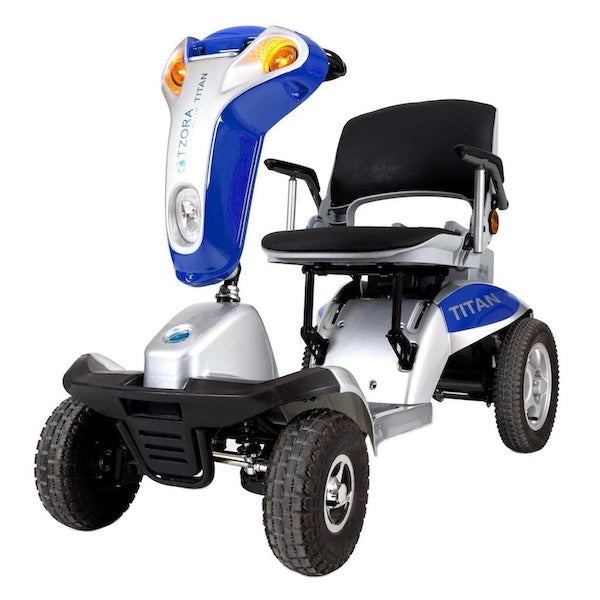 Usually, when choosing a mobility scooter, you have to prioritize what's more important to you: a durable, all-terrain scooter; or a folding scooter that you can take with you anywhere. But when you choose to invest in Tzora scooters, you no longer have to make that difficult decision.
At the intersection of portability and durability, Tzora scooters are designed to be rugged. However, each of their five scooter models can fold up to take with you when you travel. Some can even break into small parts for maximum portability. 
3-Wheel Tzora Scooters
Tzora's 3-wheel scooter models provide a sleek, compact transportation system for people who need help getting around. These models tend to be slightly easier to get around corners and through tight hallways than their 4-wheeled counterparts.    
Tzora Elite 3-Wheel Scooter
Carrying Capacity: 250 pounds
Distance per Charge: 8 miles 
Best For: Traveling via public transportation
The Tzora Elite, also known as the Tzora Easy Travel Scooter, is perfect for users who regularly travel in the car or use public transportation often. This lightweight scooter folds flat in a matter of seconds without any tools, so you can check it onto a bus or pop it into the trunk of a taxi cab without a worry. 
The heaviest piece of this scooter weighs a mere 35 pounds, so you don't have to be a bodybuilder to get it in and out of vehicles or on and off of planes. It's built to be seamlessly incorporated into your day-to-day life. 
But portability isn't all the Tzora Elite has to offer. Front easy-mover wheels provide additional stability, reducing the chances of this scooter flipping while the rider is trying to get on or off. And non-marking wheels that never go flat allow this scooter to perform great both indoors and outdoors. 
If you're the type of rider who wants to be able to go to the mall or peruse the aisles of the grocery store in comfort and style, the Tzora Elite is a great model for you. 
Tzora Titan 3-Wheel Scooter
Carrying Capacity: 300 pounds
Distance per Charge: 15 miles
Best for: Going on vacations
The extremely stylish Titan Mobility Scooter is ideal for vacationers who want a scooter model they can check onto a plane or put in a taxi without worrying about the fit. The 3-wheel Titan model is even sleek and maneuverable enough to wend its way through tight cruise ship aisles, so you can travel in style and comfort wherever your vacation takes you next. 
The Tzora Titan can travel nearly twice as far per charge as the Tzora Elite. So, if you're taking a walking tour of Italy or spending a day at Disney World, you don't have to wonder if your mobility scooter is up to the task: it is! 
Safety was a major priority when designing the Tzora Titan 3-Wheel Scooter. A halogen headlight, hazard lights, and high-frequency horn allow you to cross roads or maneuver through throngs of people safely and easily. And the battery gauge indicator lets you keep an eye on how much power you have left, so if you're spending a whole day out and about, you can ensure you'll never get stranded. 
Vibrant and stylish, the Titan comes in 4 fun colors and is designed to look a bit like a motorcycle. You'll be the envy of all when you invest in this fun mobility device. 
4-Wheel Tzora Scooters
4-wheel Tzora scooters provide extra stability and comfort for their riders. These scooters are especially recommended for users with balance problems. They also provide extra room for bariatric riders or riders who need to transport objects more often. 
Tzora Lite 4-Wheel Scooter
Carrying Capacity: 250 pounds
Distance per Charge: 8 miles
Best for: Maneuvering tight quarters
At first glance, you might mistake the Tzora Easy Travel Scooter for a 3-wheel model. This is by design. Although the Tzora Lite 4-wheel scooter has 4 wheels for additional stability, the front 2 wheels are close together. This means that you can still make tight turns and maneuver through narrow passages. It's the best of both worlds, making the Lexis Lite Scooter a popular choice for users who need their mobility scooter on a daily basis and want to be able to navigate all of life's twists and turns. 
If you live in a small apartment or other tight quarters, this carefully-designed mobility scooter is just right for your needs. Extremely compact when folded, the Tzora Lite can be easily tucked into a closet when it's not in use, so you don't have to worry about storing a big, gaumy piece of machinery. The battery pack detaches from the rest of the scooter, so you can even charge it without the whole scooter being out. 
Tzora Classic 4-Wheel Scooter
Carrying Capacity: 270 pounds
Distance per Charge:  8-10 miles
Ideal for: Running errands independently
One of the main reasons to invest in a mobility scooter is to reclaim your independence. With the Tzora Classic Lexis Light, you can truly take care of all your scootering needs completely by yourself. Not only does this scooter bend flat so you can put it in a trunk, but it also disassembles easily without the need for tools. When broken into parts, the heaviest component weighs a mere 28 pounds, so you don't need to ask for help to lift it into the back of your car. You can get up and go completely on your own. 
Like the Tzora Lite, the Tzora Classic was designed with the front two wheels placed close together to improve maneuverability and allow you to squeeze into tight spaces. You can navigate narrow aisles in clothing stores or browse your local grocery store without feeling bogged down by your mobility scooter. Non-marking, flat-free tires are ideal for users who spend a lot of time running indoor errands or navigating their homes in their scooters, while the Tzora's famous ruggedness ensures this can be used comfortably outdoors as well. 
Tzora Titan 4-Wheel Scooter
Carrying Capacity: 300 pounds
Distance per Charge: 19 miles
Ideal for: Spending time outdoors
The most rugged and stable of all Tzora scooters, the Tzora Titan 4-wheel scooter—also known as the Tzora Hummer XL—provides the width and carrying capacity you're looking for in an indoor/outdoor mobility scooter. Although heavier than other Tzora scooter models, the Titan makes up for that extra weight by giving you the ability to travel over rough terrain on a regular basis. If you're looking for a mobility scooter that will allow you to go on hiking paths with your family, ride down a rough dirt road, or ride easily over grass and cobblestones, this is the Tzora mobility scooter for you. 
The Tzora Titan 4-wheel scooter comes with a number of safety features, including headlight and hazard lights, that will allow you to easily cross over main roads while out for a hike or safely ride through your retirement community. It can separate into two pieces for easier transportation or storage, and can also fold flat if you need to tuck it away quickly. The adjustable tiller helps keep the Titan ergonomically friendly, so you can be comfortable all day long. 
Choose Your Best Tzora Scooter Today
When you choose a Tzora scooter, you get all the benefits of rugged, long-lasting indoor/outdoor scooters while also enjoying the portability of foldable and detachable parts. Truly built to help you regain your independence, Tzora scooters allow you to get where you need to go without lugging heavy tools or needing to lift hundreds of pounds by yourself. 
Once you've decided to invest in a Tzora scooter, it's just a matter of deciding which of their five amazing models works best with your lifestyle. The versatility of these scooters means that you can't really go wrong. They're set for all terrains, and the ability to both fold and come apart means these scooters provide you with the best of all worlds. Past that, the best choice depends on how much weight you need to carry, how far you need to travel, where you spend the majority of your time, and—of course—the style you like best.
Contact us today
to learn more about choosing the best Tzora scooter for your lifestyle.