EWheels Recreational Scooters Are Fast, Fun, and Fantastic!
EWheels Recreational Scooters Are Fast, Fun, and Fantastic!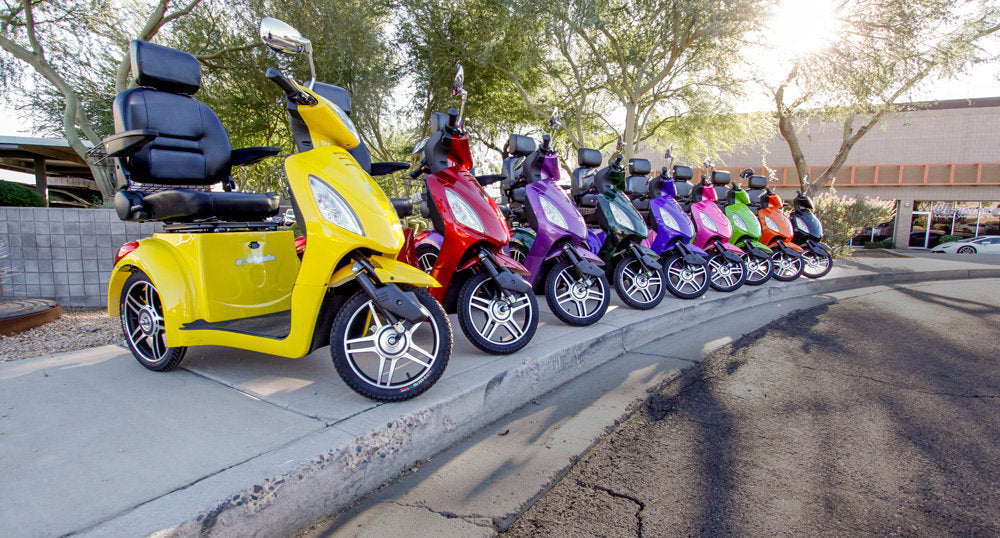 EWheels electric scooters aren't like other mobility scooters on the market. EWheels has truly put the fun in mobility scooters, designing a line of scooters that's sleek, stylish, and fast. If you're looking for a mobility scooter that serves as a true recreational vehicle, perfect for taking on bike paths or town roads, this is the brand for you. 
In this guide, we'll not only outline what makes EWheels great in general, but also outline some specific features to look out for when choosing the best EWheel scooter for your lifestyle. 
What Makes EWheels So Great? 
EWheels scooters are built with the assumption that mobility should be fun. Whether you're taking a bike ride or riding your mobility scooter, you should be able to feel the wind in your hair and wear a smile on your face. Their mobility scooters are fast, stylish, and varied enough to meet anyone's needs. 
EWheels Mobility Scooters Are Fast
Unlike many other mobility scooters, which cap their speed at 5 or 10 mph, most models of EWheels are built for speed. Their heavy-duty EWheels EW 54 can travel up to 15 mph, while the EW 36 scooter can go up to 18 mph. 
Take your scooter for a leisurely ride into town or join your grandchildren for a bike ride around the neighborhood. With the sun kissing your skin and the wind at your back, you'll feel like a kid again whenever you take one of these sleek scooters out for a spin. 
EWheel Scooters Are Stylish
EWheels put a lot of work into designing stylish mobility scooters that you'll be proud to ride. 
Many of their scooters, including the EWheels EW 18 and the EWheels EW 19, have a bicycle-esque style that will bring with them the childhood nostalgia of going for a bike ride with your friends. Others, like the EWheels EW 11 and EWheels EW 36, took on a more motorcycle-like look. 
And then there's the EW Vintage. Also known as the Gatsby Scooter, this scooter looks like it's right out of a vintage car parade. If you've always enjoyed classic vehicles, you'll love the way EWheels leaned into that classically vintage look when designing this eye-catching mobility scooter. 
EWheels Are Versatile
When it comes to EWheels, there's truly something for everyone. For example, the EWheels M34 scooter is a portable 4-wheel scooter that can be assembled and disassembled in just five simple steps. If you need a stylish scooter you can take on family vacations and enjoy both indoors and outdoors, this is the scooter for you. 
But they also have the EWheels EW 54 with hard-top canopy. The EW 54 scooter is less suited for taking on a road trip than the M34. But with comfortable seating, a built-in 2-stereo music system, and a canopy for use in rain or shine, the EW 54 can virtually replace your car if you live in a small town or retirement community. 
How Do You Choose the Best EWheel for You? 
With so many different EWheels to choose from, the question isn't whether EWheels can match your need for a great mobility scooter. The question is how to choose the right EWheels scooter for your personal needs. We'll walk you through some major questions to ask yourself to help narrow down your choices. 
Support Concerns
The first question you should ask when choosing your EWheel is how much support you need at this stage in your mobility journey. 
4-wheel scooters like the EWheels EW 46 and the EWheels EW 72 offer the most stability and support. If you struggle with balance issues, choosing one of EWheels' 4-wheel scooters may be the safest option for you. 
If, on the other hand, your balance is pretty good, you can look at their selection of 3 wheel scooters. The EW 11 Scooter is pretty good if you still need some sturdy support but can handle a tricycle design rather than a cart design, while the EWheels EW 19 is great for confident riders. 
Then there's the EWheels EW 18. This standing mobility scooter is perfect if you still enjoy standing for most of your day but don't have the stamina to walk long distances. It gives you the option to sit or stand as you move through your daily adventures. 
Mobility Goals
Another factor to consider when choosing your mobility scooter is your future mobility goals. 
Some scooters are meant to support your current mobility level and allow you to comfortably move from Point A to Point B. These scooters, like the euro scooter 3-wheel, are meant to be comfortable and fun above all else. 
Other mobility scooters can be used to help you regain mobility. If you're recovering from a surgery, for example, or are trying to start a new workout routine, you might prefer the choice between standing and sitting that you get with the EW18. Or you might prefer the EWheels EW 29, an innovative electric trike that lets you choose between pedaling and using the electric features. 
Use Locations
Where and how you'll be using your mobility scooter is another major factor when choosing the right one for you. 
If your goal is to ride your scooter in your neighborhood or around town, you'll want a heavy-duty mobility scooter that is safe to use on town roads. The EW 52 and EW 54 are both built with this type of use in mind. They come equipped with turn signals, brake lights, and headlights so that you can safely use them on town roads day or night.  
On the other hand, if your goal is to take more family vacations or pack your scooter into the trunk of your car on a regular basis, you'll want one of the EWheels travel scooters. The EWheels Auto Fold Travel Scooter, while slower than other EWheels models, can remotely fold in less than 10 seconds, making it a super convenient choice for frequent travelers. 
You'll also want to consider the terrain you'll be driving over. If you'll mostly be driving your scooter indoors or on paved roads, you might not care how it does on different terrains. But if your day consists of traveling down a winding dirt road or riding through grass at the golf course, you might need to look for something a little more rugged. The EW 72, for example, has extra large tires which allow you to cross uneven terrain with ease. 
Need for Speed
Although EWheels specializes in creating mobility scooters that can go fast, not all of their models lean into this feature. So if going fast is one of the major selling points in buying an EWheel, you'll want to pay attention to the maximum speed capabilities of the scooter you purchase. 
Some scooters, like the auto-fold travel scooter, cap out at about 5mph. This is the perfect speed for keeping pace with your family as you walk through a town fair or amusement park. 
But if you're looking for something you can take out for a quick Sunday morning ride, you'll want a mobility scooter that can zip through town at a stunning 15-18 mph. Look for something like the Big Wheels Scooter or the EW 10 Sport Scooter for a faster ride that will leave you with a grin on your face. 
EWheels Gives the Fun Back to Mobility
Here at GoMobility, we believe in mobility devices that re-energize your lifestyle. With EWheels, you get just that. Built to impress, their recreational scooters are fun, fast, and stylish. They're the types of mobility scooters you'll be proud to show off to family and friends. 
For more information about the right EWheel recreational scooter for your lifestyle and needs,
give us a call
today. We're happy to walk you through the full specs of any of these beautiful EWheel scooters. We even have
financing options
available to help you bring comfortable, fun mobility into your life as soon as possible.