How to Make Your Home Safer So You Can Age in Place
How to Make Your Home Safer So You Can Age in Place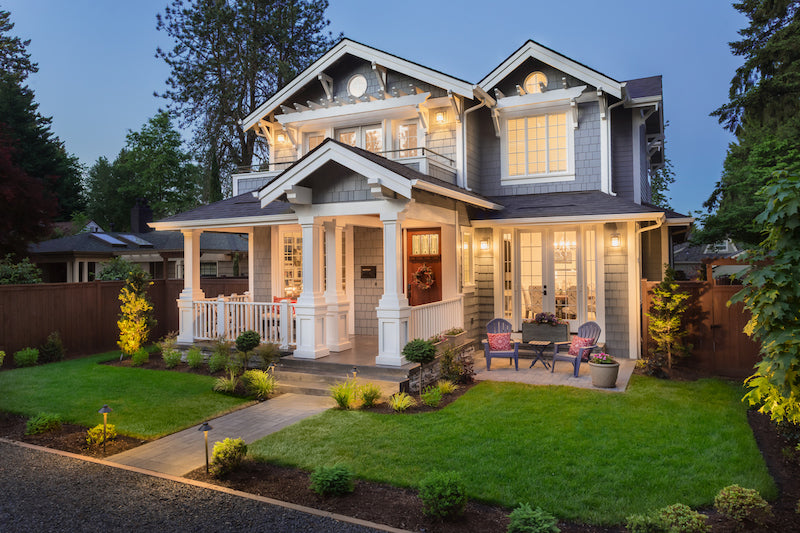 If you don't like the idea of giving up your home and moving to a retirement community or assisted living facility, you're not alone. Nearly 90% of people aged 65 and older want to live in their current home for as long as possible. This trend is known as "aging in place," and believe it or not, it can be really good for you. 
Aging in place can have a number of financial, social, and mental health benefits. But one major downside is that a home a senior citizen bought 10 or 20 years ago may no longer be equipped to handle their needs. Making some modifications to your home can help you stay safe and maintain your independence for as long as possible. Here are 5 tips for making your home mobility-friendly and safe to stay in as you age. 
Tip #1: Reduce Space Used
One way to help you stay safe as you age in place is to limit the portion of your home that you're using. If your home is bigger than you need--say, a three bedroom home that you raised a family in--but you don't want to downsize to a smaller home, another option you have is to reduce the amount of space you use on a regular basis. 
For example, you could move your main bedroom to the first floor so that your kitchen, living room, and bedroom are localized. Even if that means giving up a formal dining room, this can be safer in the long run because you no longer have to worry about falling as you go up and down stairs. Staying on one floor is also easier on your joints than doing stairs regularly. 
Another benefit to moving everything you use regularly to one floor is that you can close off the floor you're not using and only heat or cool the downstairs portion of your home at a time, reducing your electric costs. This is a great solution for the large portion of senior citizens who haven't saved as much as they'd like for retirement. 
And even if you close down a portion of your home for most of the year, you always have the option to open those rooms up again if people come to visit and need rooms. 
Tip #2: Update Your Bathroom
Over 80% of falls in the home happen in the bathroom. So, if you can only invest in making one thing in your home more safe, the bathroom is the place to concentrate your energy and attention. 
The first step is to ensure you have precautions, like non-slip mats and towels, in place to prevent the floor from being too slick to walk on safely. You should also consider installing no-scald faucets or a no-scald regulator to ensure your shower water doesn't go above 160 degrees Fahrenheit. 
Investing in something like the Bellavita Bath Lift allows you to get into and out of the tub safely, so you can enjoy a relaxing soak without wondering if you'll be stuck in the water until your kids come to visit. Guard rails on the inside of the tub can further help you transition from your walker to your bath while minimizing your risk of falling. 
Another place to upgrade is your toilet. Installing a taller toilet can make it easier to get up after you relieve yourself. 
Tip #3: Adjust Your Lounging Spaces
The majority of the time you spend in your home is spent lounging -- on the couch, in bed, or in a chair. Making it easy to get up from your lounging spaces reduces the strain you put on your joints and increases your chances of being active throughout the day. If it doesn't hurt to stand, you're less likely to procrastinate when you want a drink of water or are thinking about moving a load of laundry around. 
Lift chairs are one great option for adjusting your lounging spaces. Many models are designed to look like traditional living room lounge chairs, so you don't have to sacrifice the aesthetic of your home or settle for living in a sterile hospital-esque setting in order to improve the functionality of your home. Choose the right lift chair for your home to reduce your chances of falling when transitioning from a walker or scooter to a lounge chair (and back again). 
Choosing a high-quality medical bed is another great way to improve the lounge spaces in your home and age in place for as long as possible. Medical beds can not only lift to help you stand, but may also be able to be adjusted so you can comfortably watch TV in bed or elevate your feet for improved circulation. These modifications can reduce overall body aches and pains, which, in turn, can reduce your chances of falling or pulling a muscle. 
Tip #4: Clear Your Walking Paths
Since falls cause more than half of emergency room visits for senior citizens, anything you can do to reduce your chances of falling is a good thing. One of the easiest ways you can do this is to ensure your walking paths remain as clear as possible. Remove clutter and any furniture pieces you don't use on a regular basis. 
If you have pets, you should consider a system for keeping their toys contained, such as limiting their toys to a certain room in the house. You should also consider keeping your pets behind closed doors if you're going up or down stairs or if you're going in a room, like the bathroom, where your chances of falling are higher than usual. 
By making your walking paths wider, you not only reduce your chances of tripping over unnecessary knick-knacks, but you also make it so you can use portable mobility scooters within your home. Give your bones and muscles a break, and improve your independence with this quick modification! 
Tip #5: Modify Your Home with Mobility in Mind
There are a number of other small adjustments you can make to your home to improve your ability to move safely throughout your house. For example, you can put nonstick treads on the floors throughout your home. Throw rugs are considered a major trip hazard, especially for people who have mobility scooters or walkers, because your equipment can get caught on the edges of the rug. 
If you are going to be going up and down stairs in your home, consider investing in a chair lift, which can make these transitions safer for you and can allow you to bring any mobility devices you have with you from floor to floor. 
We Can Help You Age in Place
Here at GoMobility, our main mission is to help you keep your independence and quality of life for as long as possible. We believe that leaving your home to downsize or move to an assisted living facility should be a choice, not a foregone conclusion of aging. By making simple modifications to your home and your lifestyle, you can make it safe to stay there for as long as possible without putting undue stress and limitations on your family members. 
Our mobility devices, including bath lifts, chair lifts, and vehicle lifts, are designed to keep you as safe, comfortable, and independent as possible. Just be sure when you buy these items online that you make your purchase from a certified A+ BBB rated company. 
For more help determining what you need to do to be able to stay safe in your home, consider reaching out to a company in your area that conducts home safety audits for seniors. They can give you personalized suggestions as to which areas in your home could be adjusted even better to make way for your changing lifestyle and abilities.