How to Choose the Best Medical Beds for Home
How to Choose the Best Medical Beds for Home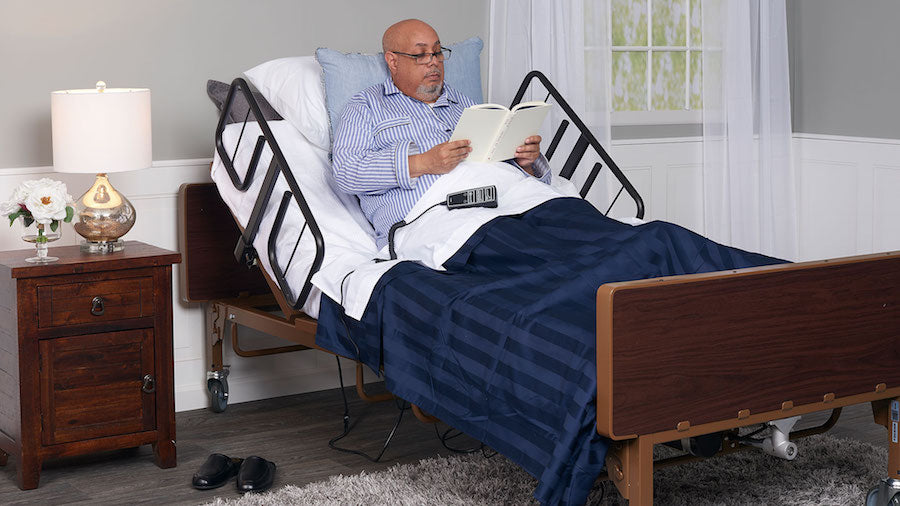 Whether you've just had a surgery and are struggling to get in and out of your normal bed at night or you have a serious medical condition that will leave you permanently bedridden, you may be considering the need for a hospitable bed at home. Adjustable beds can help you remain at home or in a limited-assistance facility for as long as possible. 
"Aging in place," where you choose to live out as many years as possible in your home rather than in a nursing home, is important to a lot of people and can improve mental health and quality of life. But aging in place can also pose safety risks. Med beds alleviate some of those risks while helping you stay as comfortable as possible. 
Is There a Difference Between Hospital Beds and Homecare Beds? 
Although the terms hospital beds and homecare beds are often used interchangeably, there is a difference between the two. 
Hospital beds, also known as med beds, are beds that are meant to meet the needs of all types of patients in hospitals. These beds often have wheels on them so they can be transported from one hospital room to another. 
Homecare beds, on the other hand, are meant to be used for people with limited mobility who are either living at home or in a nursing home or assisted living facility. These beds may or may not have wheels on them. They take the place of traditional beds in the home, but have additional features for people who are spending extra time in bed. 
Both hospital beds and homecare beds are adjustable at the top and the bottom. 
Why Would You Want Hospital Beds for Home? 
There are a number of reasons to want a hospital bed or homecare bed in your home. 
One of the biggest reasons to want hospital beds at home is to facilitate long term care. Hospital beds can help people who are bedridden stay comfortable and reduce the risks of developing bed sores. They can also make it easier for caregivers by providing additional support for transitions into and out of beds. 
Another reason to choose a hospital or homecare bed at home is to provide support for people with reduced mobility. Getting into and out of bed can take a lot of core strength and lead to an increased risk of falls. Features like bars on the sides of the beds or adjustable heights can help you transition from laying down to sitting, which can, in turn, make it easier to stand up. This can allow people who are aging in place to ask for less help from caregivers, which gives them more independence in their homes. 
What Are the Different Types of Hospital Bed Mattresses? 
Hospital bed mattresses are different from mattresses for traditional beds. For one thing, they're much thinner—usually about six inches thick. This allows them to maneuver and fold into different positions depending on how you have your hospital bed adjusted. 
Innerspring mattresses have coiled springs evenly distributed throughout the mattress. They're relatively economical, but are best for people who will not be in their bed the majority of the day. For example, if you're recovering from knee surgery and temporarily need a hospital bed on the first floor because you can't climb the stairs, but you still have enough mobility to make yourself food in the kitchen or watch TV in the living room, an innerspring mattress may be a good choice for your med bed. 
Foam mattresses are mid-price range beds that are best suited for people who will be going through long-term care. They help spread out the pressure a person puts on a mattress, which can help prevent the development of bed sores. However, they don't breathe as well as innerspring mattresses, which can make them difficult to clean. 
Low air loss or alternating pressure mattresses are extremely gentle for people with sensitive skin or for people who already have pressure sores. They are either zoned to take pressure off high-pressure areas, or they continually move where the pressure is at. These mattresses can help with circulation and keep bedridden individuals more comfortable for longer. 
How Do You Choose Between Different Hospital Beds for Sale? 
There are a number of factors to consider when choosing the right hospital or homecare bed for your lifestyle. You should always consider online ratings and signs that you're working with a reputable hospital bed retailer. But even when you're looking at the best hospital beds on the market, there are different features you may prefer depending on your specific circumstances. 
Size Considerations
One thing to consider when choosing your hospital bed is the bed size that you need. 
Smaller beds are a good choice if you plan to sleep in the bed alone, especially if you're transforming a smaller room into a homecare room. On the other hand, bariatric patients may need wider, heavy-duty hospital beds. 
And if you're replacing your normal bed with a homecare bed, you might need to look for a queen size hospital bed so you and your spouse can continue sleeping next to each other. 
Necessary Features
The next thing to pay attention to when choosing your homecare bed is what features are most important to you. 
For example, if you're purchasing a homecare bed for a toddler or young child who needs extra care at home, you may need permanent bars on the sides of the bed so they don't roll out. But if you're purchasing a bed for someone who needs to be able to transfer easily from a bed to a wheelchair, you may prefer a homecare bed that doesn't have bars on the side or that has bars that can lift up and down. 
Caregiver Roles
People in assisted living facilities or people who have permanent or semi-permanent caregivers living with them need to consider their caregiver's role in their life and their caregiver's needs when choosing a hospital bed. 
For example, adjustable beds that are lifted manually can be a money-saving choice for people who can adjust the bed on their own. But if you're going to be relying on a caregiver to make adjustments, an electric hospital bed means they don't have to lift your body and your bed simultaneously. It may also allow you to adjust the bed yourself and reclaim a level of independence while leaving your caregivers free to help with other tasks in the home. You might even look for something like the Drive Hospital Bed, which is semi-electric, for something in the middle. 
Medical Needs
Your medical needs are often a driving force in the homecare bed you choose for your house. For example, you may look for hospital beds that offer extended positioning options for people who need to be able to have catheters placed or who have pulmonary problems. The Med-Mizer AllCare Floor Level Low Bed, for example, offers Trendelenburg and Reverse Trendelenburg positions. 
If you have weak or painful joints but still want to move around during the day, an adjustable height bed that can raise up high to help you leave the bed on your own may reduce pressure on your joints and reduce risks of falling. 
Aesthetics
The final consideration when choosing the best medical bed for your home is aesthetics. You may not care what your bed looks like if you're using a hospital bed temporarily while recovering from hip surgery. But if your home hospital bed is a permanent addition to your house, you may want a bed that offers improved mobility without looking like a hospital bed. 
How Do You Purchase Your First Homecare Bed?
Choosing a homecare bed can be emotional. It can be hard to admit when you need more help in your home. But mobility devices like home hospital beds can improve your quality of life and give you more independence. Ultimately, they can allow you to age gracefully while limiting mobility pain. 
If you're ready to purchase your first
homecare bed
, our customer service team can help you choose the right hospital bed for your needs. We are an
A+ BBB certified online store
. We'll talk to you about what features you're looking for in a hospital bed and your unique mobility circumstances so that you can find your best homecare bed.
Contact us today
.