Afikim Scooters: Which One Should You Buy?
Afikim Scooters: Which One Should You Buy?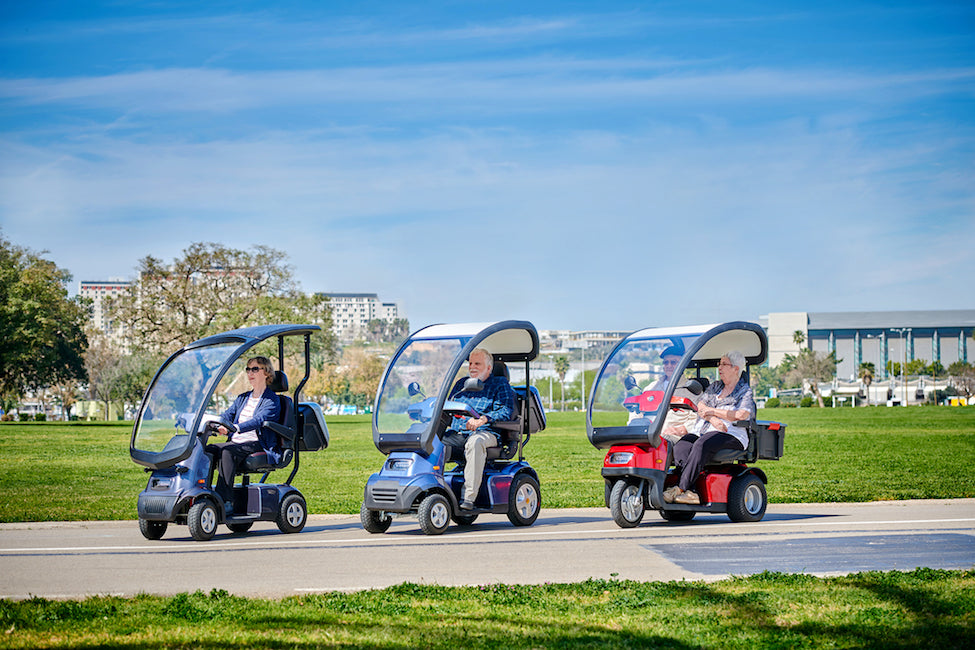 Afikim Scooters are some of the finest mobility scooters on the market — the crème de la crème, if you will. Afikim Electric Vehicles has been exclusively designing mobility scooters since 1978, and their market experience shows with every model they produce. They use high-quality features and robust safety features. And when you purchase your Afiscooter through GoMobility, you'll also receive a free 2-year in-home service warranty with each model they provide. 
In this guide, we'll outline each of the Afiscooters we currently sell, from their dual seat electric scooters to their hard top canopy options—and even one cool Afiscooter that looks like a motorcycle. We'll explain the quality choices that make each Afiscooter worth its weight in gold, as well as the unique features of each model that will help you decide which is best for your lifestyle. 
3 Wheel Afiscooters
3-wheel mobility scooters are a little more maneuverable than their 4-wheel counterparts. Afikim has designed most of their 3-wheel scooters to have a sporty, modern look. Although all of Afikim's 3 wheel scooters offer a sturdy design and a sleek style, their slightly different features may make them attractive to different lifestyles. 
Afikim SE Motorcycle Scooter
This Afiscooter is inspired by the stylish look and feel of a classic motorcycle. It can carry up to 500 pounds up to 30 miles. It can travel up to 10 mph at its maximum speed, but also has a 5mph "half-speed" setting, and it has a turning radius of a tight 45". 
This scooter features a swiveling seat and folding arm rests. These features make it easy to safely transfer from your scooter to standing, using a walker, or using a wheelchair as needed. 
This power scooter was made to be an all-terrain vehicle. It has a sturdy chassis and rear-powered wheels, allowing it to glide smoothly over rocks, mud, grass, and gravel. You can get this model in a single-width seat or a double-wide seat if you're looking for a 2 person scooter. 
The controls for the SE Motorcycle Scooter are intuitive and easy-to-use. However, they do require some hand dexterity and strength. This scooter is steered like a bike, and you squeeze the handle to make it go forward. 
Afikim S3 (Breeze) 3-Wheel Scooter 
This luxury 3-wheel scooter was once known as the Afikim Breeze, but has since become better-known as the Afikim S3. This scooter can carry up to 450 pounds up to 31 miles, and has a 56" turning radius.  
This scooter is designed for people who like to stay out all day or take their scooters shopping. It has a built-in cupholder, as well as front and rear storage compartments that you can lock. 
Just like the SE motorcycle scooter, the Afiscooter S3 has the option to purchase a 2 person electric scooter (with a maximum speed of 7.4mph) or a 1 person electric scooter (with a maximum speed of 9.3 mph). 
The two rear-view mirrors, turn signals, brake lights, and headlights make this a great scooter to take on out and about. The full round suspension and shock absorbers ensure a comfortable ride in all terrain, while safety features allow you to feel confident wherever your path may take you. 
Like the Afiscooter SE, the Afiscooter S3 has a swiveling seat and rotating armrests. However, this scooter also offers a reclining seat back and adjustable handlebars so you can be as comfortable as possible when you're sitting and so you can transfer to a standing position easily. 
Afikim C3 3-Wheel Scooter
This midsized Afikim scooter is ideal for both indoor and outdoor activities. Only 25" wide, with a turning radius of a mere 50", it can easily navigate through doorways and store aisles. However, it also includes turn signals, rearview mirrors, and headlights for safe outdoor use. 
The Afikim C3 can carry up to 330 pounds up to 25 miles. It offers an all-digital display, and, like the Afikim S3, it offers locking boxes in the front and back. It also has a swiveling, orthopedic seat and adjustable handlebars. Its ergonomic delta steering tiller was designed for people with limited hand mobility, and knobs and switches increase the ease with which you can steer this mobility scooter. 
4-Wheel Afiscooters
4-wheel Afiscooters have a slightly wider turn radius than their 3-wheeled counterparts. However, 4-wheeled scooters offer more stability and can handle slightly rougher terrain. They also tend to be wider than 3-wheel scooters and are often recommended for bariatric patients. 
Afikim S4 (Breeze) 4-Wheel Scooter
The Afiscooter S4 is a heavy duty mobility scooter. It can carry up to 450 pounds up to 30 miles, and has an 86" turning radius. 
This is the all-terrain mobility scooter you're looking for if you like to spend a lot of time outdoors and don't want your location limited by your vehicle. It offers the same locking front-and-back compartments and ergonomically-designed tiller as the S3 model, but with a wider and more sturdy frame. 
Afikim C4 4-Wheel Scooter
Like the Afikim C3, the Afiscooter C4 is considered a mid-range mobility scooter, and is designed to be used both indoors and outdoors. It can carry up to 330 pounds up to 28 miles. It has a front lockbox with an optional rear lockbox, and you can also choose an optional hardtop canopy.
Just like the Afikim C3, the C4 has a standard delta tiller, allowing people with limited hand dexterity to use it safely and comfortably. 
At 26" wide, the C4 is slightly wider than the C3, but is still slim enough to fit through most doorways and store aisles with ease. It has a turning radius of 67".
Which Afiscooter is Best for Me? 
Although we feel confident that you'll be happy with any Afikim scooter you purchase, the best model for you will depend on your individual needs and lifestyle choices. 
Should I Choose a 3-Wheeled or 4-Wheeled Scooter? 
3-wheeled scooters have one wheel in the front and two wheels in the back, while 4-wheeled scooters have two wheels in both the front and the back. Aesthetically, 3-wheeled Afikim scooters tend to look more like motorcycles and 4-wheeled Afikim scooters tend to look more like cars, and some people make the decision based on their preferred style alone. 
However, there are a number of practical reasons to choose a 3-wheeled scooter or a 4-wheeled scooter. 
3-wheeled scooters tend to be lighter than 4-wheeled scooters. They have a tighter turning radius, making it easier to get around obstacles than with a 4-wheel scooter. They also tend to weigh slightly less. 
4-wheeled scooters sacrifice turning radius to give additional stability. They're often recommended for bariatric patients or for people with trouble balancing. They do tend to be heavier than 3-wheel scooters, however, and may be more difficult to maneuver. 
Do I Want a Hard Top Canopy? 
The Afiscooter S and C models have optional hard-top canopies, so you can choose to convert your Afiscooter to a 3 or 4 wheel canopy scooter. 
The hard top canopy accessory allows you to enjoy your Afiscooter more often. Your mobility isn't limited by the weather. Rain or shine, you can enjoy a comfortable ride. The clear material ensures you can still see where you're going, while the hard-top design ensures you're comfortable even if it's raining hard or snowing. 
Which Model Should I Choose? 
The model you choose depends largely on your lifestyle and the reason you're buying a scooter in the first place. 
For a day-to-day mobility scooter that you'll bring to the grocery store and on walks with your grandchildren, you'll probably be happiest with one of the Afiscooter C models. 
If you are choosing a scooter for occasional outdoor use—to take your dog on a walk, for example, or to go to your grandson's baseball game—the Afiscooter SE is a great choice. 
And if you want a comfortable, heavy-duty mobility scooter to use as your main transportation source to get around a small town, retirement community, or large property, you'll want the extra-comfortable, award-winning Afiscooter S. 
No matter what Afiscooter you choose, we're here to help.
Contact us today
to learn more about how an Afikim mobility scooter can work into your lifestyle.