{"id":3562865000525,"title":"Trilift Scooter \u0026 Powerchair Lift","handle":"trilift-scooter-powerchair-lift","description":"\u003cul\u003e\n\u003cli\u003eLight Weight, Platform-Free Lift\u003c\/li\u003e\n\u003cli\u003eHigh Ground Clearance\u003c\/li\u003e\n\u003cli\u003eEasy to Unload\u003c\/li\u003e\n\u003c\/ul\u003e\n\u003ctable\u003e\n\u003ctbody\u003e\n\u003ctr\u003e\n\u003ctd class=\"label\"\u003eWeight Capacity\u003c\/td\u003e\n\u003ctd\u003e145 lbs - 400 lbs\u003c\/td\u003e\n\u003c\/tr\u003e\n\u003c\/tbody\u003e\n\u003c\/table\u003e\n\u003c!-- split --\u003e\n\u003cdiv class=\"tab_content\" id=\"overview\" style=\"display: block;\"\u003e\n\u003c!--------------------tab1-----------------\u003e\n\u003ch2\u003eTrilift Scooter \u0026amp; Powerchair Lift\u003c\/h2\u003e\nThe Tri Lift is an great new easy way to carry your scooter or power chair. Its innovative design doesn't require any bulky ugly platform on the back on your car, truck or van so you longer have the added weight and eye sore of a conventional outside platform lift. \u003cbr\u003e\u003cbr\u003eThe Tri Lift comes in 4 different models:\u003cbr\u003e\u003cbr\u003e1) Ultra Tri Lift for travel scooters or lightweight power chairs up to 145 lbs (like the Pride Go Chair)\u003cbr\u003e2) Standard Tri Lift for Scooters up to 250 lbs (Class 2 or 3 Hitch)\u003cbr\u003e3) Standard Tri Lift for Power Chairs up to 250 lbs (Class 2 or 3 Hitch)\u003cbr\u003e4) Heavy Duty for Scooters or Power Chairs up to 450 lbs. (Only Class 3 Hitch)\u003cbr\u003e\u003cbr\u003eIt is incredibly sleek and lightweight, weighing only between 42 and 60 lbs. The loading capacity on the standard models is up to 500 pounds. The lift offers many options including a 4 position tilt adapter (allowing hatch access), a remote control, a lighted license plate holder, and a soft cover. The Ultra Lite uses a Class II hitch and is wired in through the auxiliary power wiring in your car, SUV or van for easy power. The Standard models require a class 3 hitch and will also work with almost any vehicle on the road. If you looking for a convenient, lightweight, easy to use lift that doesn't take up too much space, the Tri Lift is the answer.\u003cbr\u003e\u003cbr\u003e \u003cb\u003eHow Does the TriLift Work?:\u003c\/b\u003e The lift works by having a \"lifting bracket\" or docking bracking bolt onto your scooter or power chair. The docking bracket then attaches to the hitch, lifting your scooter or power chair with the push of a button. The scooter or power chair lifts off the ground without the need for any ugly heavy platform andproviding great ground clearance.\u003cbr\u003e\u003cbr\u003e \u003cb\u003eCan the TriLift work for me?\u003c\/b\u003e Please call us at 1-866-230-2323 if you would like to speak with a Tri Lift expert. We're happy to discuss if the Tri Lift would work for you.\u003cbr\u003e\n\u003cp class=\"style59\"\u003e\u003cspan class=\"BulletBackgroundColor\"\u003e\u003cimg border=\"1\" alt=\"\" src=\"http:\/\/www.trilift.net\/new\/images\/front-page\/van1170-s.gif\" width=\"180\"\u003e\u003cbr\u003e \u003c\/span\u003e\u003cspan class=\"StoryContentColor\"\u003e\u003c\/span\u003e\u003c\/p\u003e\n\u003ch2\u003e\u003c\/h2\u003e\n\u003cp class=\"style59\"\u003e \u003c\/p\u003e\n\u003ch2\u003eTRILIFT ADVANTAGE:\u003c\/h2\u003e\n\u003cbr\u003e \u003cimg alt=\"\" src=\"http:\/\/www.trilift.net\/new\/images\/0081_ulli.gif\" width=\"12\" height=\"12\"\u003e NO STRAPS\u003cbr\u003e \u003cimg alt=\"\" src=\"http:\/\/www.trilift.net\/new\/images\/0081_ulli.gif\" width=\"12\" height=\"12\"\u003e ADJUSTABLE \u003cbr\u003e \u003cimg alt=\"\" src=\"http:\/\/www.trilift.net\/new\/images\/0081_ulli.gif\" width=\"12\" height=\"12\"\u003e EASY TO LOAD \u003cbr\u003e \u003cimg alt=\"\" src=\"http:\/\/www.trilift.net\/new\/images\/0081_ulli.gif\" width=\"12\" height=\"12\"\u003e \u003cspan class=\"style58\"\u003eMORE GROUND CLEARANCE\u003c\/span\u003e\u003cbr\u003e \u003cimg alt=\"\" src=\"http:\/\/www.trilift.net\/new\/images\/0081_ulli.gif\" width=\"12\" height=\"12\"\u003e NO BULKY PLATFORM\u003cbr\u003e \u003cimg alt=\"\" src=\"http:\/\/www.trilift.net\/new\/images\/0081_ulli.gif\" width=\"12\" height=\"12\"\u003e FITS MOST VEHICLES\u003cbr\u003e\n\u003cp class=\"style59\"\u003e\u003cimg border=\"1\" alt=\"\" src=\"http:\/\/www.trilift.net\/new\/images\/front-page\/red-gogo-mustang.jpg\" width=\"180\"\u003e\u003c\/p\u003e\n\u003cp class=\"style59\"\u003e\u003cspan class=\"BulletBackgroundColor ListHeaderColor\"\u003eWith our unique patented design, TRILIFT will simplify the way you transport your scooter or power chair without impairing the look of your vehicle. \u003c\/span\u003e\u003c\/p\u003e\n\u003cp\u003e \u003c\/p\u003e\n\u003ch2\u003eOPTIONS:\u003c\/h2\u003e\n\u003cp\u003e \u003c\/p\u003e\n\u003cp\u003e \u003c\/p\u003e\n\u003cul\u003e\n\u003cul\u003e\n\u003cli\u003e\u003cspan size=\"2\" style=\"font-size: small;\"\u003e4 Position Tilt Adaptor with Spring Load - Gives you access to hatch or rear door.\u003c\/span\u003e\u003c\/li\u003e\n\u003c\/ul\u003e\n\u003c\/ul\u003e\n\u003cspan size=\"2\" style=\"font-size: small;\"\u003e\n\u003cli\u003e\u003cspan size=\"2\" style=\"font-size: small;\"\u003eExternal Coil-Cord Remote Control\u003c\/span\u003e\u003c\/li\u003e\n\u003cspan size=\"2\" style=\"font-size: small;\"\u003e\n\u003cli\u003eSilent Hitch Pin Lock\u003c\/li\u003e\n\u003cli\u003e\u003cspan size=\"2\" style=\"font-size: small;\"\u003eLighted License Plate Holder - Relocates your license plate so the lift is not blocking it and it's easily visible.\u003c\/span\u003e\u003c\/li\u003e\n\u003cspan size=\"2\" style=\"font-size: small;\"\u003e\n\u003cli\u003eSoft Cover for Power Head\u003c\/li\u003e\n\u003c\/span\u003e\u003c\/span\u003e\u003c\/span\u003e\n\u003cp\u003e \u003c\/p\u003e\n\u003ch2\u003eWARRANTY:\u003c\/h2\u003e\n\u003cp\u003e \u003c\/p\u003e\n\u003cspan size=\"2\" style=\"font-size: small;\"\u003e\u003cspan size=\"2\" style=\"font-size: small;\"\u003e\u003cspan size=\"2\" style=\"font-size: small;\"\u003eThree Years Transferable Limited Factory Warranty on Parts. \u003c\/span\u003e\u003c\/span\u003e\u003c\/span\u003e\n\u003c\/div\u003e\n\u003c!-- split --\u003e\n\u003cdiv class=\"tab_content\" id=\"specifications\" style=\"display: block;\"\u003e\n\u003c!--------------------tab2-----------------\u003e \u003cbr\u003e\n\u003ch2\u003eSTANDARD TRILIFT\u003c\/h2\u003e\n\u003cbr\u003e\n\u003ctable width=\"100%\" border=\"0\" cellspacing=\"0\" cellpadding=\"2\" class=\"frame2\" align=\"center\"\u003e\n\u003ctbody\u003e\n\u003ctr\u003e\n\u003ctd width=\"187\" class=\"text_gray_bold_12pt\"\u003eLift Height\u003c\/td\u003e\n\u003ctd width=\"392\" class=\"text_black_bold_12pt borderleft\"\u003e\u003cspan class=\"text_gray_bold_12pt\"\u003e45\"-60\" \u003c\/span\u003e\u003c\/td\u003e\n\u003c\/tr\u003e\n\u003ctr\u003e\n\u003ctd bgcolor=\"#F0F0F0\" class=\"text_gray_bold_12pt\"\u003eLoading Capacity\u003c\/td\u003e\n\u003ctd bgcolor=\"#F0F0F0\" class=\"text_black_bold_12pt borderleft\"\u003eUp to 500 lbs\u003c\/td\u003e\n\u003c\/tr\u003e\n\u003ctr\u003e\n\u003ctd width=\"187\" class=\"text_gray_bold_12pt\"\u003e\u003cspan class=\"text_black_bold_12pt borderleft\"\u003eLift Weight \u003c\/span\u003e\u003c\/td\u003e\n\u003ctd class=\"text_black_bold_12pt borderleft\"\u003e60 lbs\u003c\/td\u003e\n\u003c\/tr\u003e\n\u003ctr\u003e\n\u003ctd bgcolor=\"#F0F0F0\" class=\"text_gray_bold_12pt\"\u003eBack Space\u003c\/td\u003e\n\u003ctd bgcolor=\"#F0F0F0\" class=\"text_black_bold_12pt borderleft\"\u003e11\"\u003c\/td\u003e\n\u003c\/tr\u003e\n\u003ctr\u003e\n\u003ctd width=\"187\" class=\"text_gray_bold_12pt\"\u003eCycle Load Time\u003c\/td\u003e\n\u003ctd class=\"text_black_bold_12pt borderleft\"\u003e55 seconds\u003c\/td\u003e\n\u003c\/tr\u003e\n\u003ctr\u003e\n\u003ctd bgcolor=\"#F0F0F0\" class=\"text_gray_bold_12pt\"\u003eDocking Bracket Size\u003c\/td\u003e\n\u003ctd bgcolor=\"#F0F0F0\" class=\"text_black_bold_12pt borderleft\"\u003e9.5\"\u003c\/td\u003e\n\u003c\/tr\u003e\n\u003ctr\u003e\n\u003ctd width=\"187\" height=\"32\" class=\"text_gray_bold_12pt\"\u003eDocking Bracket Weight\u003c\/td\u003e\n\u003ctd class=\"text_black_bold_12pt borderleft\"\u003e12-22 lbs\u003c\/td\u003e\n\u003c\/tr\u003e\n\u003c\/tbody\u003e\n\u003c\/table\u003e\n\u003ch2\u003eSTANDARD ULTRA-LITE\u003c\/h2\u003e\n\u003ctable width=\"100%\" border=\"0\" cellspacing=\"0\" cellpadding=\"2\" class=\"frame2\" align=\"center\"\u003e\n\u003ctbody\u003e\n\u003ctr\u003e\n\u003ctd width=\"186\" class=\"text_gray_bold_12pt\"\u003eLift Height\u003c\/td\u003e\n\u003ctd width=\"393\" class=\"text_black_bold_12pt borderleft\"\u003e42\"-55\"\u003c\/td\u003e\n\u003c\/tr\u003e\n\u003ctr\u003e\n\u003ctd bgcolor=\"#F0F0F0\" class=\"text_gray_bold_12pt\"\u003eLift Weight\u003c\/td\u003e\n\u003ctd bgcolor=\"#F0F0F0\" class=\"text_black_bold_12pt borderleft\"\u003e42 lbs\u003c\/td\u003e\n\u003c\/tr\u003e\n\u003ctr\u003e\n\u003ctd width=\"186\" class=\"text_gray_bold_12pt\"\u003eLoading Capacity\u003c\/td\u003e\n\u003ctd class=\"text_black_bold_12pt borderleft\"\u003eUp to 145 lbs\u003c\/td\u003e\n\u003c\/tr\u003e\n\u003ctr\u003e\n\u003ctd bgcolor=\"#F0F0F0\" class=\"text_gray_bold_12pt\"\u003eBack Space\u003c\/td\u003e\n\u003ctd bgcolor=\"#F0F0F0\" class=\"text_black_bold_12pt borderleft\"\u003e10\"\u003c\/td\u003e\n\u003c\/tr\u003e\n\u003ctr\u003e\n\u003ctd width=\"186\" class=\"text_gray_bold_12pt\"\u003eCycle Load Time\u003c\/td\u003e\n\u003ctd class=\"text_black_bold_12pt borderleft\"\u003e45 Seconds\u003c\/td\u003e\n\u003c\/tr\u003e\n\u003ctr\u003e\n\u003ctd bgcolor=\"#F0F0F0\" class=\"text_gray_bold_12pt\"\u003eDocking Bracket Size\u003c\/td\u003e\n\u003ctd bgcolor=\"#F0F0F0\" class=\"text_black_bold_12pt borderleft\"\u003e7\"\u003c\/td\u003e\n\u003c\/tr\u003e\n\u003ctr\u003e\n\u003ctd width=\"186\" class=\"text_gray_bold_12pt\"\u003eDocking Bracket Weight\u003c\/td\u003e\n\u003ctd class=\"text_black_bold_12pt borderleft\"\u003e8-15 lbs\u003c\/td\u003e\n\u003c\/tr\u003e\n\u003ctr\u003e\u003c\/tr\u003e\n\u003c\/tbody\u003e\n\u003c\/table\u003e\n\u003c\/div\u003e\n\u003c!-- split --\u003e","published_at":"2019-05-22T22:11:49-07:00","created_at":"2019-05-22T22:22:36-07:00","vendor":"GoMobility","type":"Non-Platform Lifts","tags":[],"price":179000,"price_min":179000,"price_max":229000,"available":true,"price_varies":true,"compare_at_price":219900,"compare_at_price_min":219900,"compare_at_price_max":219900,"compare_at_price_varies":false,"variants":[{"id":28283846525005,"title":"Ultra Lite for Travel Scooters or Power Chairs (Under 145 lbs) (Any Class Hitch)","option1":"Ultra Lite for Travel Scooters or Power Chairs (Under 145 lbs) (Any Class Hitch)","option2":null,"option3":null,"sku":"","requires_shipping":true,"taxable":true,"featured_image":null,"available":true,"name":"Trilift Scooter \u0026 Powerchair Lift - Ultra Lite for Travel Scooters or Power Chairs (Under 145 lbs) (Any Class Hitch)","public_title":"Ultra Lite for Travel Scooters or Power Chairs (Under 145 lbs) (Any Class Hitch)","options":["Ultra Lite for Travel Scooters or Power Chairs (Under 145 lbs) (Any Class Hitch)"],"price":179000,"weight":0,"compare_at_price":219900,"inventory_management":null,"barcode":""},{"id":28283846557773,"title":"Standard for Scooters (Up to 250 lbs) (Class 2 or 3 Hitch) [Add $190.00]","option1":"Standard for Scooters (Up to 250 lbs) (Class 2 or 3 Hitch) [Add $190.00]","option2":null,"option3":null,"sku":"","requires_shipping":true,"taxable":true,"featured_image":null,"available":true,"name":"Trilift Scooter \u0026 Powerchair Lift - Standard for Scooters (Up to 250 lbs) (Class 2 or 3 Hitch) [Add $190.00]","public_title":"Standard for Scooters (Up to 250 lbs) (Class 2 or 3 Hitch) [Add $190.00]","options":["Standard for Scooters (Up to 250 lbs) (Class 2 or 3 Hitch) [Add $190.00]"],"price":198000,"weight":0,"compare_at_price":219900,"inventory_management":null,"barcode":""},{"id":28283846590541,"title":"Standard for Power Chairs (Up to 250 lbs) (Class 2 or 3 Hitch) [Add $370.00]","option1":"Standard for Power Chairs (Up to 250 lbs) (Class 2 or 3 Hitch) [Add $370.00]","option2":null,"option3":null,"sku":"","requires_shipping":true,"taxable":true,"featured_image":null,"available":true,"name":"Trilift Scooter \u0026 Powerchair Lift - Standard for Power Chairs (Up to 250 lbs) (Class 2 or 3 Hitch) [Add $370.00]","public_title":"Standard for Power Chairs (Up to 250 lbs) (Class 2 or 3 Hitch) [Add $370.00]","options":["Standard for Power Chairs (Up to 250 lbs) (Class 2 or 3 Hitch) [Add $370.00]"],"price":216000,"weight":0,"compare_at_price":219900,"inventory_management":null,"barcode":""},{"id":28283846623309,"title":"Heavy Duty for Scooters \u0026 Powerchairs (Up to 450 lbs) (Only Class 3 Hitch) [Add $500.00]","option1":"Heavy Duty for Scooters \u0026 Powerchairs (Up to 450 lbs) (Only Class 3 Hitch) [Add $500.00]","option2":null,"option3":null,"sku":"","requires_shipping":true,"taxable":true,"featured_image":null,"available":true,"name":"Trilift Scooter \u0026 Powerchair Lift - Heavy Duty for Scooters \u0026 Powerchairs (Up to 450 lbs) (Only Class 3 Hitch) [Add $500.00]","public_title":"Heavy Duty for Scooters \u0026 Powerchairs (Up to 450 lbs) (Only Class 3 Hitch) [Add $500.00]","options":["Heavy Duty for Scooters \u0026 Powerchairs (Up to 450 lbs) (Only Class 3 Hitch) [Add $500.00]"],"price":229000,"weight":0,"compare_at_price":219900,"inventory_management":null,"barcode":""}],"images":["\/\/cdn.shopify.com\/s\/files\/1\/0082\/2303\/1373\/products\/TRILIFT-2.jpg?v=1558588964","\/\/cdn.shopify.com\/s\/files\/1\/0082\/2303\/1373\/products\/TRILIFT-3.jpg?v=1558588968","\/\/cdn.shopify.com\/s\/files\/1\/0082\/2303\/1373\/products\/TRILIFT-4.jpg?v=1558588970","\/\/cdn.shopify.com\/s\/files\/1\/0082\/2303\/1373\/products\/TRILIFT-5.jpg?v=1558588972","\/\/cdn.shopify.com\/s\/files\/1\/0082\/2303\/1373\/products\/TRILIFT-6.jpg?v=1558588973","\/\/cdn.shopify.com\/s\/files\/1\/0082\/2303\/1373\/products\/TRILIFT-7.jpg?v=1558588975","\/\/cdn.shopify.com\/s\/files\/1\/0082\/2303\/1373\/products\/TRILIFT-8.jpg?v=1558588977","\/\/cdn.shopify.com\/s\/files\/1\/0082\/2303\/1373\/products\/TRILIFT-9.jpg?v=1558588981","\/\/cdn.shopify.com\/s\/files\/1\/0082\/2303\/1373\/products\/TRILIFT-10.jpg?v=1558588983","\/\/cdn.shopify.com\/s\/files\/1\/0082\/2303\/1373\/products\/TRILIFT-11.jpg?v=1558588984","\/\/cdn.shopify.com\/s\/files\/1\/0082\/2303\/1373\/products\/TRILIFT-12.jpg?v=1558588989","\/\/cdn.shopify.com\/s\/files\/1\/0082\/2303\/1373\/products\/TRILIFT-13.jpg?v=1558588991"],"featured_image":"\/\/cdn.shopify.com\/s\/files\/1\/0082\/2303\/1373\/products\/TRILIFT-2.jpg?v=1558588964","options":["Trilift Model"],"media":[{"alt":null,"id":1432513445965,"position":1,"preview_image":{"aspect_ratio":1.142,"height":183,"width":209,"src":"https:\/\/cdn.shopify.com\/s\/files\/1\/0082\/2303\/1373\/products\/TRILIFT-2.jpg?v=1569175795"},"aspect_ratio":1.142,"height":183,"media_type":"image","src":"https:\/\/cdn.shopify.com\/s\/files\/1\/0082\/2303\/1373\/products\/TRILIFT-2.jpg?v=1569175795","width":209},{"alt":null,"id":1432513511501,"position":2,"preview_image":{"aspect_ratio":1.176,"height":255,"width":300,"src":"https:\/\/cdn.shopify.com\/s\/files\/1\/0082\/2303\/1373\/products\/TRILIFT-3.jpg?v=1569175795"},"aspect_ratio":1.176,"height":255,"media_type":"image","src":"https:\/\/cdn.shopify.com\/s\/files\/1\/0082\/2303\/1373\/products\/TRILIFT-3.jpg?v=1569175795","width":300},{"alt":null,"id":1432513544269,"position":3,"preview_image":{"aspect_ratio":1.351,"height":370,"width":500,"src":"https:\/\/cdn.shopify.com\/s\/files\/1\/0082\/2303\/1373\/products\/TRILIFT-4.jpg?v=1569175795"},"aspect_ratio":1.351,"height":370,"media_type":"image","src":"https:\/\/cdn.shopify.com\/s\/files\/1\/0082\/2303\/1373\/products\/TRILIFT-4.jpg?v=1569175795","width":500},{"alt":null,"id":1432513577037,"position":4,"preview_image":{"aspect_ratio":1.845,"height":271,"width":500,"src":"https:\/\/cdn.shopify.com\/s\/files\/1\/0082\/2303\/1373\/products\/TRILIFT-5.jpg?v=1569175795"},"aspect_ratio":1.845,"height":271,"media_type":"image","src":"https:\/\/cdn.shopify.com\/s\/files\/1\/0082\/2303\/1373\/products\/TRILIFT-5.jpg?v=1569175795","width":500},{"alt":null,"id":1432513675341,"position":5,"preview_image":{"aspect_ratio":1.859,"height":269,"width":500,"src":"https:\/\/cdn.shopify.com\/s\/files\/1\/0082\/2303\/1373\/products\/TRILIFT-6.jpg?v=1569175795"},"aspect_ratio":1.859,"height":269,"media_type":"image","src":"https:\/\/cdn.shopify.com\/s\/files\/1\/0082\/2303\/1373\/products\/TRILIFT-6.jpg?v=1569175795","width":500},{"alt":null,"id":1432513708109,"position":6,"preview_image":{"aspect_ratio":1.946,"height":257,"width":500,"src":"https:\/\/cdn.shopify.com\/s\/files\/1\/0082\/2303\/1373\/products\/TRILIFT-7.jpg?v=1569175795"},"aspect_ratio":1.946,"height":257,"media_type":"image","src":"https:\/\/cdn.shopify.com\/s\/files\/1\/0082\/2303\/1373\/products\/TRILIFT-7.jpg?v=1569175795","width":500},{"alt":null,"id":1432513871949,"position":7,"preview_image":{"aspect_ratio":1.832,"height":273,"width":500,"src":"https:\/\/cdn.shopify.com\/s\/files\/1\/0082\/2303\/1373\/products\/TRILIFT-8.jpg?v=1569175795"},"aspect_ratio":1.832,"height":273,"media_type":"image","src":"https:\/\/cdn.shopify.com\/s\/files\/1\/0082\/2303\/1373\/products\/TRILIFT-8.jpg?v=1569175795","width":500},{"alt":null,"id":1432513937485,"position":8,"preview_image":{"aspect_ratio":1.931,"height":259,"width":500,"src":"https:\/\/cdn.shopify.com\/s\/files\/1\/0082\/2303\/1373\/products\/TRILIFT-9.jpg?v=1569175795"},"aspect_ratio":1.931,"height":259,"media_type":"image","src":"https:\/\/cdn.shopify.com\/s\/files\/1\/0082\/2303\/1373\/products\/TRILIFT-9.jpg?v=1569175795","width":500},{"alt":null,"id":1432513970253,"position":9,"preview_image":{"aspect_ratio":1.919,"height":260,"width":499,"src":"https:\/\/cdn.shopify.com\/s\/files\/1\/0082\/2303\/1373\/products\/TRILIFT-10.jpg?v=1569175795"},"aspect_ratio":1.919,"height":260,"media_type":"image","src":"https:\/\/cdn.shopify.com\/s\/files\/1\/0082\/2303\/1373\/products\/TRILIFT-10.jpg?v=1569175795","width":499},{"alt":null,"id":1432514035789,"position":10,"preview_image":{"aspect_ratio":1.88,"height":266,"width":500,"src":"https:\/\/cdn.shopify.com\/s\/files\/1\/0082\/2303\/1373\/products\/TRILIFT-11.jpg?v=1569175795"},"aspect_ratio":1.88,"height":266,"media_type":"image","src":"https:\/\/cdn.shopify.com\/s\/files\/1\/0082\/2303\/1373\/products\/TRILIFT-11.jpg?v=1569175795","width":500},{"alt":null,"id":1432514101325,"position":11,"preview_image":{"aspect_ratio":2.033,"height":246,"width":500,"src":"https:\/\/cdn.shopify.com\/s\/files\/1\/0082\/2303\/1373\/products\/TRILIFT-12.jpg?v=1569175795"},"aspect_ratio":2.033,"height":246,"media_type":"image","src":"https:\/\/cdn.shopify.com\/s\/files\/1\/0082\/2303\/1373\/products\/TRILIFT-12.jpg?v=1569175795","width":500},{"alt":null,"id":1432514166861,"position":12,"preview_image":{"aspect_ratio":1.333,"height":375,"width":500,"src":"https:\/\/cdn.shopify.com\/s\/files\/1\/0082\/2303\/1373\/products\/TRILIFT-13.jpg?v=1569175795"},"aspect_ratio":1.333,"height":375,"media_type":"image","src":"https:\/\/cdn.shopify.com\/s\/files\/1\/0082\/2303\/1373\/products\/TRILIFT-13.jpg?v=1569175795","width":500}],"content":"\u003cul\u003e\n\u003cli\u003eLight Weight, Platform-Free Lift\u003c\/li\u003e\n\u003cli\u003eHigh Ground Clearance\u003c\/li\u003e\n\u003cli\u003eEasy to Unload\u003c\/li\u003e\n\u003c\/ul\u003e\n\u003ctable\u003e\n\u003ctbody\u003e\n\u003ctr\u003e\n\u003ctd class=\"label\"\u003eWeight Capacity\u003c\/td\u003e\n\u003ctd\u003e145 lbs - 400 lbs\u003c\/td\u003e\n\u003c\/tr\u003e\n\u003c\/tbody\u003e\n\u003c\/table\u003e\n\u003c!-- split --\u003e\n\u003cdiv class=\"tab_content\" id=\"overview\" style=\"display: block;\"\u003e\n\u003c!--------------------tab1-----------------\u003e\n\u003ch2\u003eTrilift Scooter \u0026amp; Powerchair Lift\u003c\/h2\u003e\nThe Tri Lift is an great new easy way to carry your scooter or power chair. Its innovative design doesn't require any bulky ugly platform on the back on your car, truck or van so you longer have the added weight and eye sore of a conventional outside platform lift. \u003cbr\u003e\u003cbr\u003eThe Tri Lift comes in 4 different models:\u003cbr\u003e\u003cbr\u003e1) Ultra Tri Lift for travel scooters or lightweight power chairs up to 145 lbs (like the Pride Go Chair)\u003cbr\u003e2) Standard Tri Lift for Scooters up to 250 lbs (Class 2 or 3 Hitch)\u003cbr\u003e3) Standard Tri Lift for Power Chairs up to 250 lbs (Class 2 or 3 Hitch)\u003cbr\u003e4) Heavy Duty for Scooters or Power Chairs up to 450 lbs. (Only Class 3 Hitch)\u003cbr\u003e\u003cbr\u003eIt is incredibly sleek and lightweight, weighing only between 42 and 60 lbs. The loading capacity on the standard models is up to 500 pounds. The lift offers many options including a 4 position tilt adapter (allowing hatch access), a remote control, a lighted license plate holder, and a soft cover. The Ultra Lite uses a Class II hitch and is wired in through the auxiliary power wiring in your car, SUV or van for easy power. The Standard models require a class 3 hitch and will also work with almost any vehicle on the road. If you looking for a convenient, lightweight, easy to use lift that doesn't take up too much space, the Tri Lift is the answer.\u003cbr\u003e\u003cbr\u003e \u003cb\u003eHow Does the TriLift Work?:\u003c\/b\u003e The lift works by having a \"lifting bracket\" or docking bracking bolt onto your scooter or power chair. The docking bracket then attaches to the hitch, lifting your scooter or power chair with the push of a button. The scooter or power chair lifts off the ground without the need for any ugly heavy platform andproviding great ground clearance.\u003cbr\u003e\u003cbr\u003e \u003cb\u003eCan the TriLift work for me?\u003c\/b\u003e Please call us at 1-866-230-2323 if you would like to speak with a Tri Lift expert. We're happy to discuss if the Tri Lift would work for you.\u003cbr\u003e\n\u003cp class=\"style59\"\u003e\u003cspan class=\"BulletBackgroundColor\"\u003e\u003cimg border=\"1\" alt=\"\" src=\"http:\/\/www.trilift.net\/new\/images\/front-page\/van1170-s.gif\" width=\"180\"\u003e\u003cbr\u003e \u003c\/span\u003e\u003cspan class=\"StoryContentColor\"\u003e\u003c\/span\u003e\u003c\/p\u003e\n\u003ch2\u003e\u003c\/h2\u003e\n\u003cp class=\"style59\"\u003e \u003c\/p\u003e\n\u003ch2\u003eTRILIFT ADVANTAGE:\u003c\/h2\u003e\n\u003cbr\u003e \u003cimg alt=\"\" src=\"http:\/\/www.trilift.net\/new\/images\/0081_ulli.gif\" width=\"12\" height=\"12\"\u003e NO STRAPS\u003cbr\u003e \u003cimg alt=\"\" src=\"http:\/\/www.trilift.net\/new\/images\/0081_ulli.gif\" width=\"12\" height=\"12\"\u003e ADJUSTABLE \u003cbr\u003e \u003cimg alt=\"\" src=\"http:\/\/www.trilift.net\/new\/images\/0081_ulli.gif\" width=\"12\" height=\"12\"\u003e EASY TO LOAD \u003cbr\u003e \u003cimg alt=\"\" src=\"http:\/\/www.trilift.net\/new\/images\/0081_ulli.gif\" width=\"12\" height=\"12\"\u003e \u003cspan class=\"style58\"\u003eMORE GROUND CLEARANCE\u003c\/span\u003e\u003cbr\u003e \u003cimg alt=\"\" src=\"http:\/\/www.trilift.net\/new\/images\/0081_ulli.gif\" width=\"12\" height=\"12\"\u003e NO BULKY PLATFORM\u003cbr\u003e \u003cimg alt=\"\" src=\"http:\/\/www.trilift.net\/new\/images\/0081_ulli.gif\" width=\"12\" height=\"12\"\u003e FITS MOST VEHICLES\u003cbr\u003e\n\u003cp class=\"style59\"\u003e\u003cimg border=\"1\" alt=\"\" src=\"http:\/\/www.trilift.net\/new\/images\/front-page\/red-gogo-mustang.jpg\" width=\"180\"\u003e\u003c\/p\u003e\n\u003cp class=\"style59\"\u003e\u003cspan class=\"BulletBackgroundColor ListHeaderColor\"\u003eWith our unique patented design, TRILIFT will simplify the way you transport your scooter or power chair without impairing the look of your vehicle. \u003c\/span\u003e\u003c\/p\u003e\n\u003cp\u003e \u003c\/p\u003e\n\u003ch2\u003eOPTIONS:\u003c\/h2\u003e\n\u003cp\u003e \u003c\/p\u003e\n\u003cp\u003e \u003c\/p\u003e\n\u003cul\u003e\n\u003cul\u003e\n\u003cli\u003e\u003cspan size=\"2\" style=\"font-size: small;\"\u003e4 Position Tilt Adaptor with Spring Load - Gives you access to hatch or rear door.\u003c\/span\u003e\u003c\/li\u003e\n\u003c\/ul\u003e\n\u003c\/ul\u003e\n\u003cspan size=\"2\" style=\"font-size: small;\"\u003e\n\u003cli\u003e\u003cspan size=\"2\" style=\"font-size: small;\"\u003eExternal Coil-Cord Remote Control\u003c\/span\u003e\u003c\/li\u003e\n\u003cspan size=\"2\" style=\"font-size: small;\"\u003e\n\u003cli\u003eSilent Hitch Pin Lock\u003c\/li\u003e\n\u003cli\u003e\u003cspan size=\"2\" style=\"font-size: small;\"\u003eLighted License Plate Holder - Relocates your license plate so the lift is not blocking it and it's easily visible.\u003c\/span\u003e\u003c\/li\u003e\n\u003cspan size=\"2\" style=\"font-size: small;\"\u003e\n\u003cli\u003eSoft Cover for Power Head\u003c\/li\u003e\n\u003c\/span\u003e\u003c\/span\u003e\u003c\/span\u003e\n\u003cp\u003e \u003c\/p\u003e\n\u003ch2\u003eWARRANTY:\u003c\/h2\u003e\n\u003cp\u003e \u003c\/p\u003e\n\u003cspan size=\"2\" style=\"font-size: small;\"\u003e\u003cspan size=\"2\" style=\"font-size: small;\"\u003e\u003cspan size=\"2\" style=\"font-size: small;\"\u003eThree Years Transferable Limited Factory Warranty on Parts. \u003c\/span\u003e\u003c\/span\u003e\u003c\/span\u003e\n\u003c\/div\u003e\n\u003c!-- split --\u003e\n\u003cdiv class=\"tab_content\" id=\"specifications\" style=\"display: block;\"\u003e\n\u003c!--------------------tab2-----------------\u003e \u003cbr\u003e\n\u003ch2\u003eSTANDARD TRILIFT\u003c\/h2\u003e\n\u003cbr\u003e\n\u003ctable width=\"100%\" border=\"0\" cellspacing=\"0\" cellpadding=\"2\" class=\"frame2\" align=\"center\"\u003e\n\u003ctbody\u003e\n\u003ctr\u003e\n\u003ctd width=\"187\" class=\"text_gray_bold_12pt\"\u003eLift Height\u003c\/td\u003e\n\u003ctd width=\"392\" class=\"text_black_bold_12pt borderleft\"\u003e\u003cspan class=\"text_gray_bold_12pt\"\u003e45\"-60\" \u003c\/span\u003e\u003c\/td\u003e\n\u003c\/tr\u003e\n\u003ctr\u003e\n\u003ctd bgcolor=\"#F0F0F0\" class=\"text_gray_bold_12pt\"\u003eLoading Capacity\u003c\/td\u003e\n\u003ctd bgcolor=\"#F0F0F0\" class=\"text_black_bold_12pt borderleft\"\u003eUp to 500 lbs\u003c\/td\u003e\n\u003c\/tr\u003e\n\u003ctr\u003e\n\u003ctd width=\"187\" class=\"text_gray_bold_12pt\"\u003e\u003cspan class=\"text_black_bold_12pt borderleft\"\u003eLift Weight \u003c\/span\u003e\u003c\/td\u003e\n\u003ctd class=\"text_black_bold_12pt borderleft\"\u003e60 lbs\u003c\/td\u003e\n\u003c\/tr\u003e\n\u003ctr\u003e\n\u003ctd bgcolor=\"#F0F0F0\" class=\"text_gray_bold_12pt\"\u003eBack Space\u003c\/td\u003e\n\u003ctd bgcolor=\"#F0F0F0\" class=\"text_black_bold_12pt borderleft\"\u003e11\"\u003c\/td\u003e\n\u003c\/tr\u003e\n\u003ctr\u003e\n\u003ctd width=\"187\" class=\"text_gray_bold_12pt\"\u003eCycle Load Time\u003c\/td\u003e\n\u003ctd class=\"text_black_bold_12pt borderleft\"\u003e55 seconds\u003c\/td\u003e\n\u003c\/tr\u003e\n\u003ctr\u003e\n\u003ctd bgcolor=\"#F0F0F0\" class=\"text_gray_bold_12pt\"\u003eDocking Bracket Size\u003c\/td\u003e\n\u003ctd bgcolor=\"#F0F0F0\" class=\"text_black_bold_12pt borderleft\"\u003e9.5\"\u003c\/td\u003e\n\u003c\/tr\u003e\n\u003ctr\u003e\n\u003ctd width=\"187\" height=\"32\" class=\"text_gray_bold_12pt\"\u003eDocking Bracket Weight\u003c\/td\u003e\n\u003ctd class=\"text_black_bold_12pt borderleft\"\u003e12-22 lbs\u003c\/td\u003e\n\u003c\/tr\u003e\n\u003c\/tbody\u003e\n\u003c\/table\u003e\n\u003ch2\u003eSTANDARD ULTRA-LITE\u003c\/h2\u003e\n\u003ctable width=\"100%\" border=\"0\" cellspacing=\"0\" cellpadding=\"2\" class=\"frame2\" align=\"center\"\u003e\n\u003ctbody\u003e\n\u003ctr\u003e\n\u003ctd width=\"186\" class=\"text_gray_bold_12pt\"\u003eLift Height\u003c\/td\u003e\n\u003ctd width=\"393\" class=\"text_black_bold_12pt borderleft\"\u003e42\"-55\"\u003c\/td\u003e\n\u003c\/tr\u003e\n\u003ctr\u003e\n\u003ctd bgcolor=\"#F0F0F0\" class=\"text_gray_bold_12pt\"\u003eLift Weight\u003c\/td\u003e\n\u003ctd bgcolor=\"#F0F0F0\" class=\"text_black_bold_12pt borderleft\"\u003e42 lbs\u003c\/td\u003e\n\u003c\/tr\u003e\n\u003ctr\u003e\n\u003ctd width=\"186\" class=\"text_gray_bold_12pt\"\u003eLoading Capacity\u003c\/td\u003e\n\u003ctd class=\"text_black_bold_12pt borderleft\"\u003eUp to 145 lbs\u003c\/td\u003e\n\u003c\/tr\u003e\n\u003ctr\u003e\n\u003ctd bgcolor=\"#F0F0F0\" class=\"text_gray_bold_12pt\"\u003eBack Space\u003c\/td\u003e\n\u003ctd bgcolor=\"#F0F0F0\" class=\"text_black_bold_12pt borderleft\"\u003e10\"\u003c\/td\u003e\n\u003c\/tr\u003e\n\u003ctr\u003e\n\u003ctd width=\"186\" class=\"text_gray_bold_12pt\"\u003eCycle Load Time\u003c\/td\u003e\n\u003ctd class=\"text_black_bold_12pt borderleft\"\u003e45 Seconds\u003c\/td\u003e\n\u003c\/tr\u003e\n\u003ctr\u003e\n\u003ctd bgcolor=\"#F0F0F0\" class=\"text_gray_bold_12pt\"\u003eDocking Bracket Size\u003c\/td\u003e\n\u003ctd bgcolor=\"#F0F0F0\" class=\"text_black_bold_12pt borderleft\"\u003e7\"\u003c\/td\u003e\n\u003c\/tr\u003e\n\u003ctr\u003e\n\u003ctd width=\"186\" class=\"text_gray_bold_12pt\"\u003eDocking Bracket Weight\u003c\/td\u003e\n\u003ctd class=\"text_black_bold_12pt borderleft\"\u003e8-15 lbs\u003c\/td\u003e\n\u003c\/tr\u003e\n\u003ctr\u003e\u003c\/tr\u003e\n\u003c\/tbody\u003e\n\u003c\/table\u003e\n\u003c\/div\u003e\n\u003c!-- split --\u003e"}
Trilift Scooter & Powerchair Lift
Trilift Scooter & Powerchair Lift
$1,790.00
List Price:
$2,199.00
Watch
Videos
CUSTOMIZE & BUY
---
Why Choose Go Mobility ?
Free Shipping
Dedicated Support
Expert Advice
Low Price Guarantee
Trilift Scooter & Powerchair Lift
The Tri Lift is an great new easy way to carry your scooter or power chair. Its innovative design doesn't require any bulky ugly platform on the back on your car, truck or van so you longer have the added weight and eye sore of a conventional outside platform lift.
The Tri Lift comes in 4 different models:
1) Ultra Tri Lift for travel scooters or lightweight power chairs up to 145 lbs (like the Pride Go Chair)
2) Standard Tri Lift for Scooters up to 250 lbs (Class 2 or 3 Hitch)
3) Standard Tri Lift for Power Chairs up to 250 lbs (Class 2 or 3 Hitch)
4) Heavy Duty for Scooters or Power Chairs up to 450 lbs. (Only Class 3 Hitch)
It is incredibly sleek and lightweight, weighing only between 42 and 60 lbs. The loading capacity on the standard models is up to 500 pounds. The lift offers many options including a 4 position tilt adapter (allowing hatch access), a remote control, a lighted license plate holder, and a soft cover. The Ultra Lite uses a Class II hitch and is wired in through the auxiliary power wiring in your car, SUV or van for easy power. The Standard models require a class 3 hitch and will also work with almost any vehicle on the road. If you looking for a convenient, lightweight, easy to use lift that doesn't take up too much space, the Tri Lift is the answer.
How Does the TriLift Work?:
The lift works by having a "lifting bracket" or docking bracking bolt onto your scooter or power chair. The docking bracket then attaches to the hitch, lifting your scooter or power chair with the push of a button. The scooter or power chair lifts off the ground without the need for any ugly heavy platform andproviding great ground clearance.
Can the TriLift work for me?
Please call us at 1-866-230-2323 if you would like to speak with a Tri Lift expert. We're happy to discuss if the Tri Lift would work for you.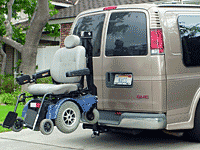 TRILIFT ADVANTAGE:

NO STRAPS

ADJUSTABLE

EASY TO LOAD

MORE GROUND CLEARANCE

NO BULKY PLATFORM

FITS MOST VEHICLES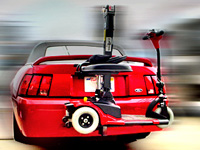 With our unique patented design, TRILIFT will simplify the way you transport your scooter or power chair without impairing the look of your vehicle.
OPTIONS:
4 Position Tilt Adaptor with Spring Load - Gives you access to hatch or rear door.
External Coil-Cord Remote Control
Silent Hitch Pin Lock
Lighted License Plate Holder - Relocates your license plate so the lift is not blocking it and it's easily visible.
Soft Cover for Power Head
WARRANTY:
Three Years Transferable Limited Factory Warranty on Parts.
STANDARD TRILIFT
| | |
| --- | --- |
| Lift Height | 45"-60" |
| Loading Capacity | Up to 500 lbs |
| Lift Weight | 60 lbs |
| Back Space | 11" |
| Cycle Load Time | 55 seconds |
| Docking Bracket Size | 9.5" |
| Docking Bracket Weight | 12-22 lbs |
STANDARD ULTRA-LITE
Lift Height
42"-55"
Lift Weight
42 lbs
Loading Capacity
Up to 145 lbs
Back Space
10"
Cycle Load Time
45 Seconds
Docking Bracket Size
7"
Docking Bracket Weight
8-15 lbs
This item is covered by our Go Mobility 30-Day Return Policy. As stated in our full Return Policy, this item may be returned within 30 days of receipt for a full refund of purchase price minus the shipping and a 15% restocking fee.
The following conditions must be met:
The item must be in new condition - no damage, no cracks, scratches, etc. - with original packaging and all parts and accessories.
A Return Authorization must be requested from Go Mobility within 30 days of delivery.
Once the Return Authorization has been received from Go Mobility, the product must be returned within 14 days to receive your refund. You can expect a refund in the same form of payment originally used for purchase usually within 3-5 business days of our receiving and inspecting your returned product.