Discover the Transformer 2: Revolutionizing Folding Scooters
Discover the Transformer 2: Revolutionizing Folding Scooters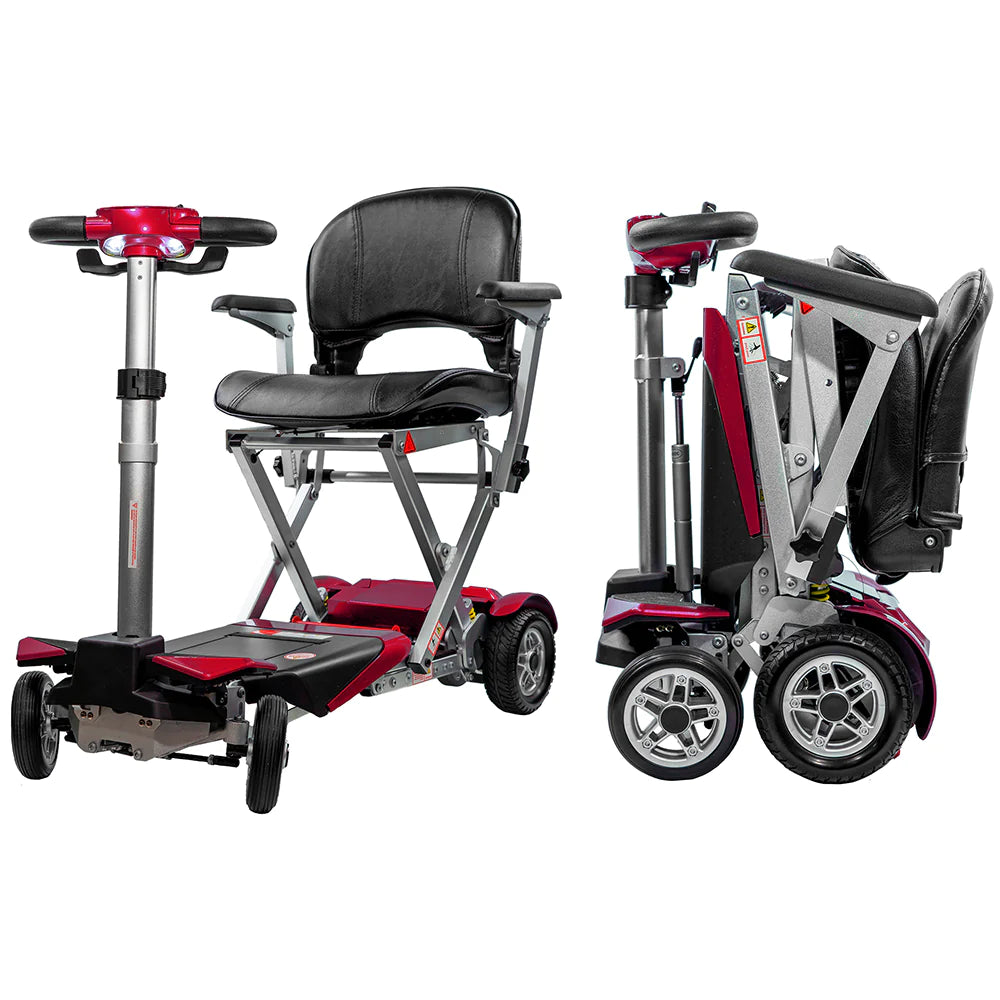 Introducing the next generation of mobility within the Folding Scooter category - the highly advanced Transformer 2. This state-of-the-art automatic folding scooter stands unrivaled in the travel mobility scooter market, incorporating cutting-edge technology and unparalleled convenience. By simply pressing a button, the remote-operated Transformer 2 effortlessly folds and unfolds, setting new benchmarks for folding scooter innovation, all at a remarkably competitive price point.
Weighing a mere 53 pounds, the Transformer 2 boasts a compact and lightweight design that facilitates easy loading into most vehicles. The newly introduced powder-coated aluminum frame, along with a spacious cushioned seat and customizable adjustable tiller, ensures an optimized and comfortable riding experience tailored to each user.
One of the most notable enhancements in the Transformer 2 is the integration of dual front and back suspension, rendering any terrain navigable with utmost smoothness and stability. Whether encountering cobblestones, gravel, or grass, this scooter guarantees a seamless journey.
A contemporary digital display dashboard adds a touch of modernity to the Transformer 2, complete with essential features such as a key for protection, a speed controller for personalized velocity adjustments, a USB charger to facilitate mobile phone charging, and an LED light for enhanced visibility and safety.
Charging the Transformer 2 has been ingeniously simplified, with the charging port now conveniently positioned on the top of the tiller, eliminating the need to bend down during the charging process. Moreover, its universal charger ensures compatibility worldwide.
Designed with travel convenience in mind, the Transformer 2 can be effortlessly maneuvered like a suitcase and folds compactly, making it an ideal travel companion for planes, trains, cruises, buses, RVs, and cars. Additionally, its impressive 13-mile charge time ensures all-day travel possibilities.
A standout feature of the Transformer 2 is its exceptional affordability. Priced at a competitive $2,775, this scooter surpasses most competitors while delivering unmatched technological advancements and build quality.
In summary, the Transformer 2 is a remote-operated, automatic folding scooter with four wheels, dual suspension, and a multitude of exceptional features. We are confident you will find it irresistible! For any inquiries regarding the Transformer 2 or other folding scooters in the market, please contact us at 866-230-2323 x2. Our team of mobility experts is eager to offer unbiased professional advice to help you find the perfect scooter that meets your specific needs.